Last year's competition
PROJECT: Celtic Leaf Sword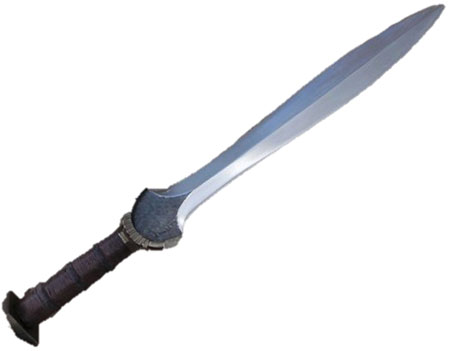 This year's student competition is focused on the use of modern casting tools to design and produce a functioning version of a Celtic Leaf Sword.
Each Sword will be put through a series of tests appropriate for these types of swords. All submissions should include your sword, a project video and technical report documenting the design and manufacturing process.
This competition requirements for the sword are:
Your team will need to identify why your sword is a Celtic Leaf Sword in the Technical Report.
Your team should use the steel casting process to add value to your sword. How you did this should be explained in your Technical Report.
Your Celtic Leaf Sword should weigh no more than 3.5 lbs.
Your Celtic Leaf Sword should not be longer than 32 inches in overall length.
Each entry will be eligible for three awards: the Best Design and Process as presented in the technical report, the Best Project Video documenting the project (not to exceed 5 minutes), and the Best Performance based on testing and expert evaluation.
The technical reports and video entries will be judged by Master Founders and Lifetime SFSA members. The performance evaluation will include a series of tests established to prove worthiness of the implement, similar in style to those seen in the History Channel program, Forged in Fire.
* SFSA will own your team's video, Technical Report and Celtic Leaf Swords *
Teams
Cast in Steel 2022 challenges university students to use steel casting to creatively make a Celtic Leaf Sword. Teams must have:
Student teams who will design, build, and test their Celtic Leaf Sword. At least one member must be a current student
A faculty sponsor to help the team
An industrial partner familiar with steel castings
Sponsors
Companies interested in sponsoring the Cast in Steel 2022 competition are welcome and should contact monroe@sfsa.org. AFS is already the Presenting Sponsor for the Awards ceremony at the 2022 CastExpo.
Schedule
As for the Timeline, below is a timeline of some of the important events and submissions dates.
Team video, Technical Report, and Celtic Leaf Sword due April 1st, 2022. *Please take care that your video does not include copyrighted music.
Cast in Steel Performance Testing: Fri., April 22, 2022 in Columbus, Ohio.
Awards Ceremony: Sun., April 24, 2022 in Columbus, Ohio at the AFS CastExpo
(AFS has graciously agreed to be the Presenting Sponsor at CastExpo)
More details and dates will be released by September 30th, 2021. More information about the American Foundry Society (AFS) and their 2022 CastExpo can be found at the link below.
https://www.afsinc.org/tradeshows/castexpo-2022
For the testing on Friday, April 22, teams and mentors should attend and will compete with their Celtic Leaf Swords. Please plan on attending the testing and mark this date on your calendars.
Evaluation
Competition will be judged by panel of steel experts selected by SFSA
The technical reports and video entries will be judged by Master Founders and Lifetime SFSA members.
The performance evaluation will include a series of tests established to prove the worthiness of each sword.
New This Year
The Technical reports have also ranged in organization and length and so this year we are setting some guidelines and providing an outline for the Cover page.
The guidelines are as follows:
You must state the reason for the competition: "SFSA has created this competition to encourage students to learn about making steel products using the casting process and applying the latest technology available"
This should be addressed somewhere in the introduction of you Technical Report
The report must address the historical background and accuracy of your Celtic Leaf Sword and explain why your Celtic Leaf Sword is a Celtic Leaf Sword
Your report must address your design process and the steps you took to get to your final product
Your report must address your final results, preferably with pictures, and show that it met contest requirements (state what the final length, weight, and materials of your Celtic Leaf Sword)
Your report shall not exceed 30 pages. (This will include your cover page and resources pages so clear and concise writing is necessary)
Other suggested topics that can be addressed in your report are as follows:
What metallurgical decisions were made with respect to your Celtic Leaf Sword
What type of casting process was selected, what led you to that decision, and the casting process steps you used while creating your Celtic Leaf Sword
What kind of inspection and testing your Celtic Leaf Swords were subjected to before submission
Additionally, your cover pages must follow the outline below. An example cover page is included in the document so you can see what the final product should look like.
More details and dates will be released by September 30th, 2021 so please pay attention to this site.
Registration
Are you ready to compete? CLICK HERE to register your team for the CIS 2022 competition.
T-Shirt Art Competition
Calling all Artists
Is this you or someone you know?
Steel Founders' Society of America is looking for an image for our 2022 Cast in Steel (CIS) T-shirt.
AWARDS:
$100 Amazon gift card!
Public Thank You on social media
Recognition at the online event
If you have an image for us to consider, email it to: rmueller@sfsa.org by November 1, 2021.
REQUIREMENTS:
The image should represent the Steel Casting Industry (not just the CIS team experience).
The image should be .jpg or vector (.eps) of 300dpi or larger (if you are unsure, feel free to submit by choosing the largest possible option on your device).
Understand that by submitting an image or design; you acknowledge that the image is not otherwise copyright protected and it becomes the property of SFSA and may be used for the T-shirt, on social media, our website, to promote (CIS) and/or the Steel Founders' Society Foundation, or for other promotional uses of the Society.
Your image could become the face of the Cast in Steel Competition for 2022! Create your own design, take a new photo, or check your photo library. Feel free to share this opportunity with others!
We're looking forward to considering your image.
2021 CIS Winning Image
Miguel Hernandez – Instituto de Saltillo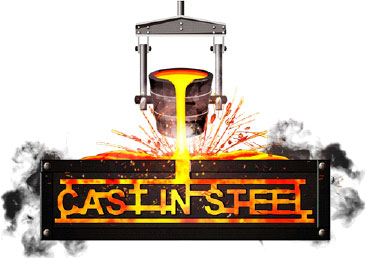 References
Celtic Leaf Sword Image:
ageofchivalry.com/…