Parting Line and Orientation in the Mold
Design Criteria -- The pattern has to be planned and designed so that –
The parting line is in the largest cross-sectional plane of the casting.
The component face with the greatest surface detail is in the drag, because fluid fill is better in the drag and low-density, non-metallic inclusions tend to segregate in the cope at the top of the casting .
The pattern is oriented for continuous, low velocity , non-turbulent fluid flow.
The need for cores is minimized or eliminated.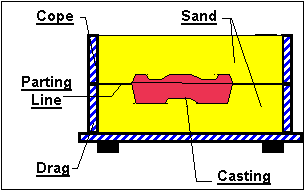 Schematic of Parting Line in a Sand Mold