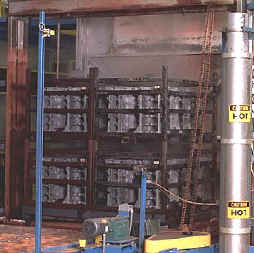 Cylinder Blocks Exiting the Heat Treat Furnace at Alfe Heat Treat, Defiance, OH
After shake-out, cutting, and cleaning, the aluminum engine block is heat-treated.
The A356 aluminum alloy requires a three step heat-treatment (T6 = solution-heat-treat, quench, and artificial aging) to develop the controlled microstructure which gives the alloy its high mechanical strength and ductility.

Heat treatment is done at Alfe Heat Treat, Defiance, OH.

After heat-treatment the cylinder block is premachined and internal coolant and oil passages are leak tested to assure pressure tightness.