The Application
The one person hitch housing is part of an improved hitch/frame design for the military's 2½ and 5 ton trucks, used for towing weapons systems, cargo trailers, and other payloads. The hitch housing acts as an alignment and locking fixture for connecting the trailer tow hook to the truck tow bar. Through a redesign of the housing to provide lateral motion to the tow bar during hook-up, the new hitch permits one-person operation, reduces hitch-up time, and provides for safer handling.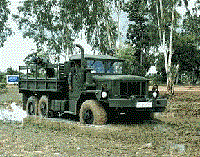 Hitch Housing Description
The hitch housing assembly is attached to the truck frame. The towing draw bar moves within the assembly during hook-up, which permits the draw bar to "swing" laterally to align with the trailer tow bar. After the trailer is connected, the draw bar self-aligns and locks in the hitch housing for towing.