Competition Requirements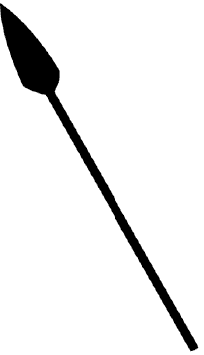 Teams will perform all aspects of creating a new African Spear Point exploiting the casting manufacturing process from design conception to performance. All four (4) components of the project should be submitted.  All students must:
Provide a preliminary plan (one page)

Rough outline of steps
Tentative timeframe
Questions/issues they need to address
Preliminary decisions they've made (type of steel, casting process, etc.)

Make their version of an African Spear Point

Your Spear Point should weigh no more than 1 kg (2.2 lbs).
Your Spear Point should not be longer than 0.5 m (20 in.) in overall length.
Your Spear point will be attached to a commercial handle for the shaft. The Libman 1.5 m (60 in.) wood handle will be used.  The taper is 65 mm (2.5 in.) long and goes from 29mm (1 1/8 in.) to 19 mm (3/4 in.) in diameter. This handle is widely available and inexpensive so should be easy to get a sample for your design and trials. Click Here for more information on the handle.

Document their project with a professional Technical Report of less than 30 pages supporting their decisions.
Produce a Project Video, not to exceed 5 minutes, that documents their project.
All project components submitted for the competition become property of SFSA.

Awards
Each spear point entry will be eligible for 5 awards and a Grand Prize:
Best Design and Process ($200/student)
Best Authentic African Spear Point ($200/student)
Best Casting ($200/student)
Best Project Video documenting the project ($200/student)
Best Performance based on testing and expert evaluation ($200/student)
Grand Prize based on the top 5 rankings from 1-5 above. Weighting of the scores will be (1) Design and Process 25%, (2) African Spear Point Authenticity 15%, (3) Casting 25%, (4) Video 10%, and (5) Performance 25%
Prize money is capped at:
$500/student for teams with 2-5 students
$2500/team for teams with more than 5 students
Important Events and Submission Dates
Friday, December 30, 2022      Proposed teams, and preliminary plan due.
Friday, March 31, 2023             Project video, technical report, and African Spear Point due.
Friday, March 31, 2023             Spear Point due
Monday, April 24, 2023*           Cast in Steel performance testing in Cleveland, Ohio.
Tuesday, April 25, 2023             Awards Ceremony in Cleveland, Ohio at the AFS Metalcasting Congress
                                                (AFS has graciously agreed to be the Presenting Sponsor)
*For the testing on Monday, April 24, teams, and mentors are highly encouraged to attend and compete with their African Spear Point. We also encourage you to stay for the Awards Ceremony.
All electronic submissions should be sent to Renee Mueller at rmueller@sfsa.org.
Mail your Spear Point to:
Renee Mueller
SFSA
780 McArdle Drive, Suite G
Technical Report Must Contain:
Your technical report must not exceed 30 pages. (This will include your cover page and resources pages so clear and concise writing is necessary)
Cover Page:

Must use the outline of this cover page. An example cover page is included in the document.

Address the following:

State the reason for the competition: "SFSA has created this competition to encourage students to learn about making steel products using the casting process and applying the latest technology available". This should be in the introduction of your Technical Report.
*The historical background and accuracy of your African Spear Point and explain why your spear point is an authentic African Spear Point.
*Your design process and the steps you took to get to your final product.
*Your final results should show that it meets contest requirements (state the final length, weight, and materials of your African Spear Point).

*Present each in the one-page executive summary as part of your technical report.

Other suggested topics that can be addressed in your technical report:

What metallurgical decisions were made with respect to your African Spear Point.
What type of casting process was selected, what led you to that decision, and the casting process steps you used while creating your African Spear Point.
What kind of inspection and testing your African Spear Point were subjected to before submission.
Registration
Are you ready to compete? CLICK HERE to register your team for the CIS 2023 competition.

Frequently Asked Questions
Is there a certain way we are supposed to secure the spear to the Libman handle?

The design of the attachment to secure the spear tip to the handle is up to your team and is an important design element.

How is the shaft attached?

One of the key elements of design for this session's competition is the attachment to the shaft. As a part of the 0.5m (20 in.) spear tip is the design how it is fastened and performs with the shaft identified. Shafts can be attached in any number of ways including close fit, pins, screws, glue, etc. The tip with the shaft, the assembled spear will then be tested in the performance competition.

Do we ship them attached?

No, the intent is to have the shafts provided by SFSA during the preliminary registration and assembly. The Spear tips will be sent to SFSA prior to the competition as in the past.

Is the shaft put on at the event? If so how is it attached then?

The plan is to open the registration and test site on the afternoon of April 23 and the morning of the competition April 24 in Cleveland. Teams will be able then to assemble their spear on the handle provided and to do some preliminary evaluations. If a team is unable to attend, SFSA will follow their instructions to assemble the spear. It can be attached anyway the Team has designed it to function.

When you say African spear do you mean Zulu Assegai?

No. It is up to each team to decide on which design of an African spear to make and to document the reason for their choice of spear type and their design in the Technical Report.
Sponsors
Companies interested in sponsoring the Cast in Steel 2023 competition are welcome and should contact monroe@sfsa.org. AFS has graciously agreed to be the Presenting Sponsor for the Awards ceremony at the 2023 Metalcasting Congress.

American Foundry Society (AFS)
More information about the American Foundry Society (AFS) and their 2023 Metalcasting Congress can be found by clicking here.