Economic growth in our economy depends on improvements in productivity and increases in the workforce. With the aging population and declining size of families, growth will depend on improvements in productivity. This month's Casteel Commentary looks at automation in finishing as a critical investment for our industry to survive and succeed.
Steel Casting Design Videos
The SFSA Marketing Committee and staff have been working with Mike Gwyn with No Redesign to develop a series of steel casting design videos. The first four videos are now available to members on the Steel Wiki website. The video series, "Steel Casting Design & Manufacturing Engineering" is presented in the context of a story told by Mike of how he discovered innovative principles for excellence in steel casting design. The target audience for this series is OEM casting designers and buyers as well as steel casting producers.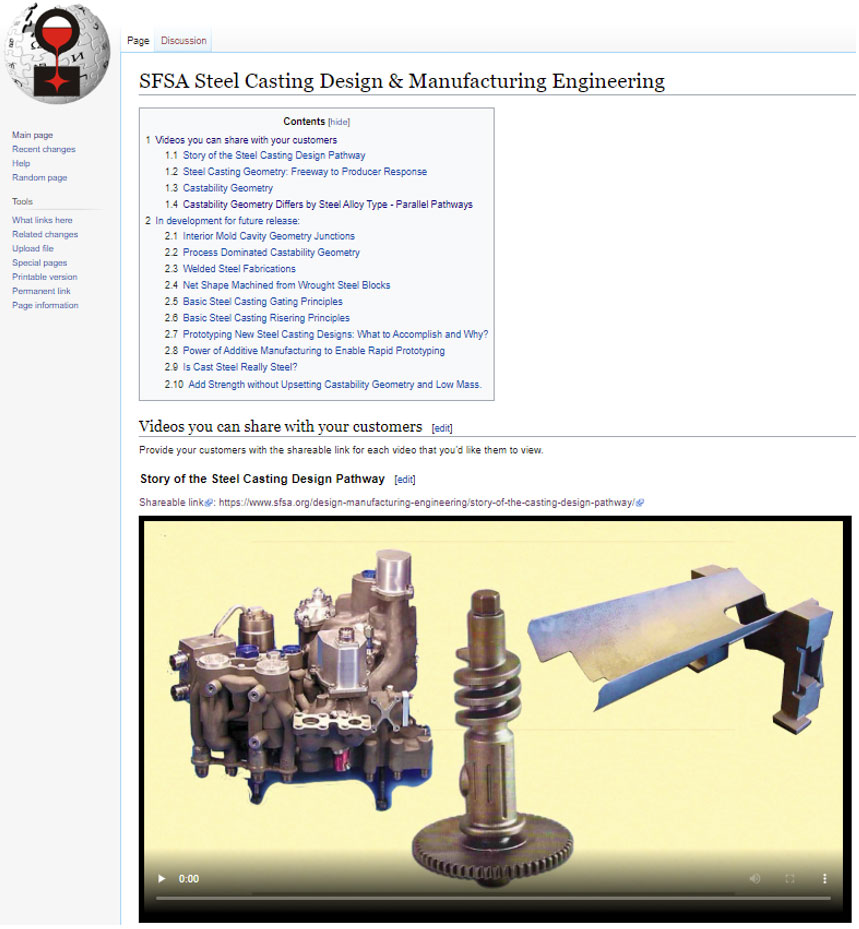 The link to the wiki page is as follows: https://wiki.sfsa.org/index.php/SFSA_Steel_Casting_Design_%26_Manufacturing_Engineering. You will need to login to the wiki to view the page. Above each video is a shareable link to provide your customers for that video. With this link, a short form is required to access the video. A user will need to complete this form each time they watch a video. SFSA will receive an email for each form to track usage and to send a follow up email seeking feedback. A general email has been established for questions and feedback – design@sfsa.org.
76th T&O Conference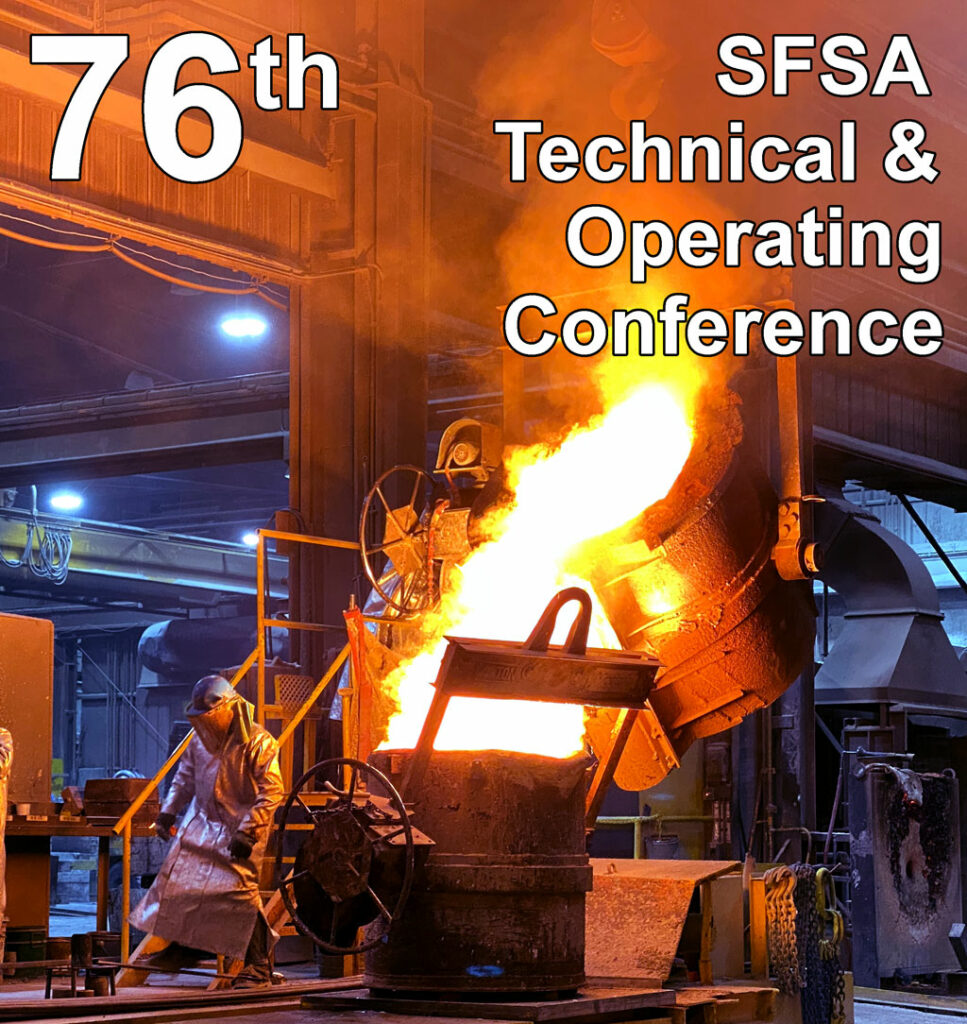 The 2022 T&O will be on December 7-10 at the Loews Hotel in Chicago. The conference is the world's only event on steel casting technical and operating papers, mostly by fellow SFSA members. Sessions will include topics on Next Gen Manufacturing, molding, melting, foundry engineering, finishing quality, EHS, management, technical and featured research. Please contact Dave with any questions.
SFSA EHS/HR Meeting
Please plan to attend the SFSA EHS & HR Group Meeting on October 26-27, 2022 at MetalTek – Wisconsin Centrifugal in Waukesha, WI. This meeting is a great opportunity to learn from your peers on many topics including how to improve EHS training and practices, communication, and the latest HR topics. In addition, a round-table discussion is the perfect forum to share practices and get answers to your EHS and human resource questions. There is no registration cost for the meeting – travel, hotel, meals, etc. are the attendees' responsibility. Make your plans now to attend – https://sfsa.site-ym.com/events/EventDetails.aspx?id=1672378
Steel Casting Research
The July Casteel Reporter introduced SFSA's research objectives. It also put forward an opportunity for industry to champion research projects by direct involvement in the steering and deployment; thus, obtaining an early and direct benefit from current R&D. In addition, an opportunity to propose new, non-competitive research ideas to SFSA's research committees. To sponsor a project or submit a research project, please contact Dave. In this Reporter, we highlight our research thrust for Quantitative Non-Destructive Testing (QNDT). This thrust will develop improved and new NDT processes that advance quality evaluation beyond workmanship standards. Quantitative practices with improved Gage R&R (repeatability and reproducibility) will enable Fitness for Purpose steel casting design for reliable performance. QNDT will enable identification of flaw size, shape and location to support a fracture mechanics based design. Research is needed to improve the Gage R&R, develop new processes, and tie NDT levels to performance. This work will create new performance based standards for quality evaluation. The following projects are supporting this thrust:
Magnetic Particle Inspection – Iowa State University
Phased Array Ultrasonic Testing – Iowa State University
Defect Automated Recording and Tracking (DART) – Deierling Engineering Consultants
Automated Image Analysis for Radiography and Fracture Surface – University of Alabama at Birmingham
SFSA utilizes a R&D project dashboard to provide an overview and status on activities. To learn more about the above projects, the dashboards are available here. For any additional information, please contact Dave.
Research Highlight – Chemistry Analysis Round Robin
Steel Founders' Society is conducting a chemistry analysis round robin to generate data on the reproducibility and repeatability of SFSA member foundries' routine spectrographic analysis. If you participate you will be able to obtain the results and see where you stand compared to everyone else in industry and you will be helping society with improving industry standards. With this study of reproducibility and repeatability we will assess our measurement ability and compare it to the past, to see if we have improved in our capabilities. We will also see if an accurate reading of a material's chemistry can better predict a material's properties thus predicting better performance, to show if we can tailor our process to match chemistry.
If you would like to participate or have any questions please feel free to contact Ruth Berrios at ruth@sfsa.org.
Cast in Steel 2023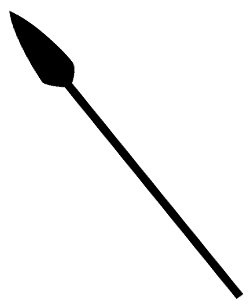 The competition will be held on April 24, 2023, in Cleveland, Ohio. The award ceremony will be held on April 25th in conjunction with the AFS Metal Casting Congress which runs from April 25 – April 27. AFS has graciously agreed to be the Presenting Sponsor.
This year's competition will challenge university students to use modern casting tools to creatively design and produce a functioning version of an African Spear Point.  The Spear Point should weigh no more than 1 kg (2.2 lbs.) and be no longer than 0.5 m (20 in.) in overall length. The Spear Point will be attached to a standard handle at the competition site for evaluation.
Our students can't do this without having a great foundry partner. If your foundry is interest in partnering with a team, contact Raymond at monroe@sfsa.org or Renee at rmueller@sfsa.org.
For more detailed information about the competition visit Cast in Steel.
Market News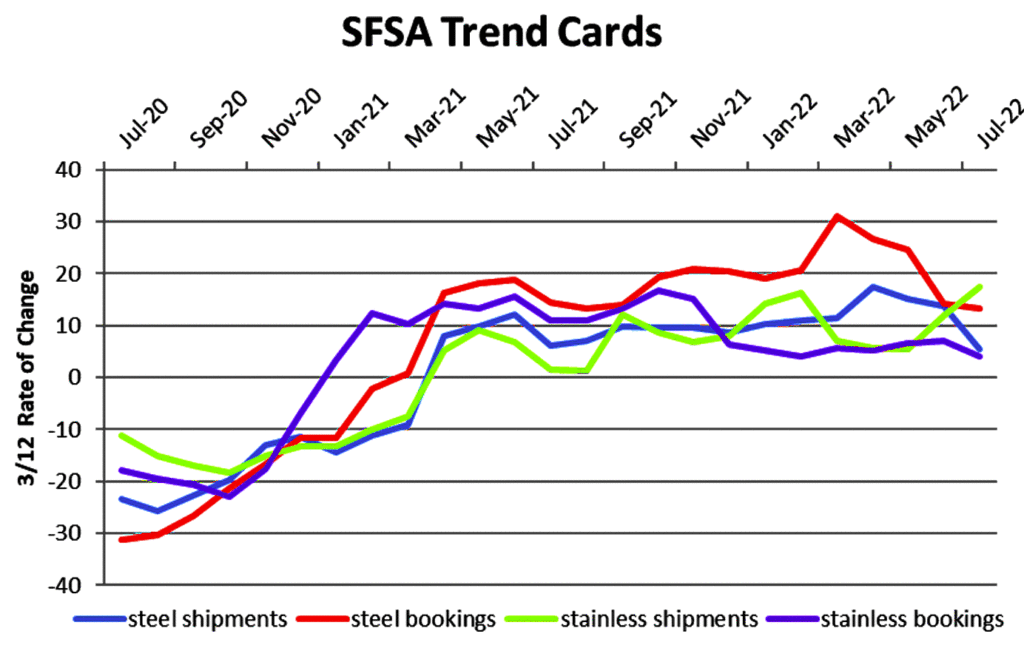 The July SFSA trends posted a year over year decline for carbon and low alloy steel shipments and bookings for a fourth consecutive month, with bookings at 13% and shipments at 5% over July 2021 levels. High alloy shipments have increased over the past two months to 15% year over year while bookings have declined slightly, hovering around 5% over year ago levels. Steel and stainless backlogs have trended downwards after peaking in May, with the median backlog for each at 13 weeks in July.
ITR revised their forecast this month for US Metalworking Machinery New Orders and US Construction Machinery New Orders. Metalworking machinery forecast was revised lower due to reduced capex spending given rising interest rates, slowing global demand, and softening metal prices. Conversely, construction machinery forecast was upgraded given unanticipated gains in multi-unit residential construction and logging production. ITR also reports that most manufacturing markets will be on the back side of the business cycle in 2023 with the exception of markets that experienced delayed recoveries such as heavy truck, automotive, and oil and gas.
The SFSA Marketing Committee met this month to develop the 2023 Market Forecast. The forecast will be presented at the Fall Leadership Meeting in Vail, CO and will be distributed to members thereafter. Thanks to all who participated in the market forecast survey.
Change of ownership – Effort Foundry
The Brynavon Group, Inc., a 3rd generation family firm, based in Pennsylvania, has acquired Effort Foundry, Inc. in Bath, PA.
Effort Foundry, Inc. has been in business since 1971 and produces castings for pumps, valves, power generation and general industrial application in a wide variety of alloys – steel, stainless, ni-based, ductile iron and grey iron.
Brynavon was founded by George B. Lemmon, Sr. in 1973 with the initial acquisition of Redmond Motors, a division of the Singer Company. Brynavon partners with management teams to acquire small to medium sized companies operating in the manufacturing and service sectors. George B. Lemmon, Jr., and George B. Lemmon, III actively assist management teams to acquire the companies for which they work.
Charles D. Hamburg, majority owner of Effort Foundry, Inc., will retire after owning and being the CEO of Effort Foundry, Inc., since 1991. Charles will remain active with Effort in the capacity of a Board of Directors member.
William Easterly has been President of Effort Foundry, Inc. since 2005 and will continue in that position under new ownership.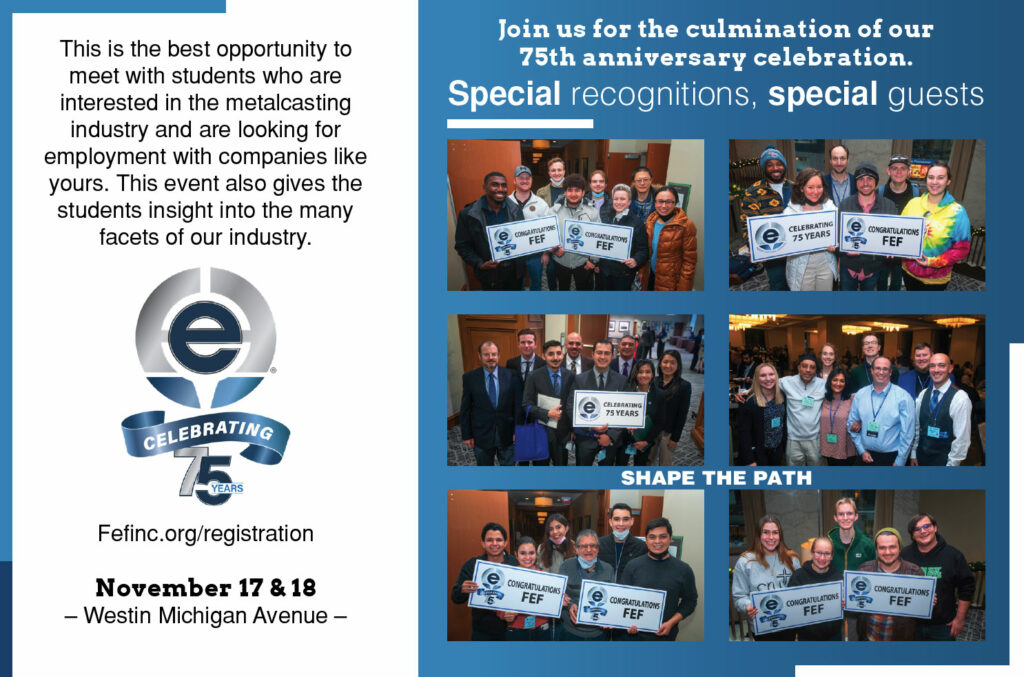 Casteel Commentary
In the past, in international meetings of the casting industry, I would hear the report from Japan and the fact that always struck me was the median age of foundry workers. If the industry was successful at recruiting a stable workforce, one would expect that the age would vary but remain within a range. That was not the case, the foundry worker in Japan was getting months older every year, highlighting the lack of recruiting new younger workers. The average age of workers in Japan increases over one month for every year.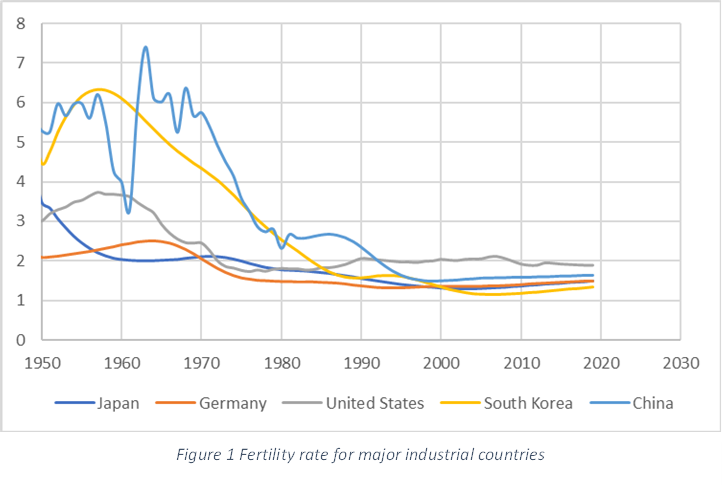 This inability to find younger workers to join the workforce was a challenge for manufacturing in Japan. The lack of immigration and declining fertility meant that manufacturing needed to become more productive to allow the limited number of worker to produce the needed products. One critical trend was to develop automation to reduce or eliminate low skilled demanding jobs like grinding in our industry.
This trend for developed industrial economies to adopt automation not merely for ordinary economic reasons, being cheaper than labor, but for demographic reasons, there were no workers available, pushed automation as a requirement. It was not driven primarily by innovative ways to automate but was required to maintain the business.
Robotics naturally became a solution for many of the automation challenges. This has driven all of the low fertility, highly industrial economies to deploy robots. This can be seen clearly in the robot density shown in the graph.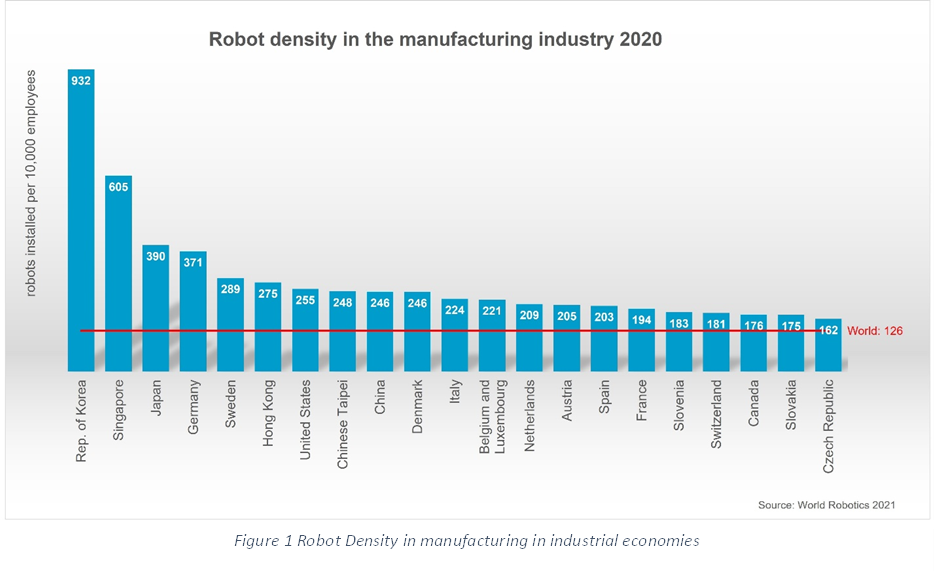 Our industry has been a specialty producer of custom-made products and had not been pushed to use automation to supplement the workforce. That is likely to be our past and not our future. We need to recognize, price into our cost structure, identify and implement robotic automation for low skilled manual operation.
Successful implementation of robotic automation is facilitated by identifying the best opportunity to reduce labor content. SFSA has been working on simple robotic tasks like grinding a riser contact or gate stub to reduce the ordinary, inefficient and unpleasant work of grinding to profile. We are happy with our colleagues from EWI and ISU to support this effort in plants.
More critical is to have some good people from the plant who identify the opportunity to replace a job that is problematic in the plant with simple operator enabled robotic automation. This is not a nice to do or a low-cost effort but is a critical path for our industry.
Raymond
STEEL FOUNDERS' SOCIETY OF AMERICA
BUSINESS REPORT
SFSA Trend Cards
(%-12 mos. Ago)
12 Mo Avg
3 Mo Avg
July
June
May
(%-12 mos. Ago)
Carbon & Low Alloy
Shipments
10.7
5.5
1
12
3.5
Bookings
19.6
13.3
9.5
11.8
18.5
Backlog (wks)
13.5
13
13.1
14
12
High Alloy
Shipments
11.5
17.3
22
20
10
Bookings
7.8
4
0
2
10
Backlog (wks)
12.7
12.7
12.7
12.4
12.9
Department of Commerce
Census Data
Iron & Steel Foundries (million $)
Shipments
1,436.60
1,485.00
1,433
1,489
1,533
New Orders
1,519.80
1,457.00
1,426
1,419
1,526
Inventories
2,554.70
2,693.00
2,699
2,686
2,694
Nondefense Capital Goods (billion $)
Shipments
80.3
80.1
80.5
79.8
79.9
New Orders
87
85.4
87.2
84.9
84.1
Inventories
207.8
211.9
212.8
212
210.8
Nondefense Capital Goods
less Aircraft (billion $)
Shipments
74.6
73.4
73.8
73.5
72.9
New Orders
76.1
74
74.4
74.2
73.5
Inventories
142.1
146.5
147.5
146.6
145.4
Inventory/Orders
1.9
2
1.98
1.98
1.98
Inventory/Shipments
0
2
2
2
1.99
Orders/Shipments
0
1
1.01
1.01
1.01
American Iron and Steel Institute
Raw Steel Shipments
(million net tons)
7.8
7.7
7.7
7.6
7.9