This month's Casteel Reporter reflects on cultural changes that will change the way we do business.  Shifts in demographics and in our marketplace are shifting the relative value of suppliers to purchasers and employees and companies.  These shifts are challenging but also opportunities and require us as leaders to understand and shift our approaches and framework to exploit these changes.
Cast in Steel 2024 Competition
On April 22, 2024, the 6th Annual SFSA's Cast in Steel Competition will be held Milwaukee, Wisconsin with the awards presented on April 23, 2024. University students will use modern casting tools to creatively design and produce a functioning version of a Halligan bar – a multipurpose tool used by firefighters to gain access to building spaces, vehicles, and for a multitude of other emergency uses. Their Halligan Bar should weigh no more than 6 kg (13.2 lbs.) and no longer than 1 m (40 in.) in overall length.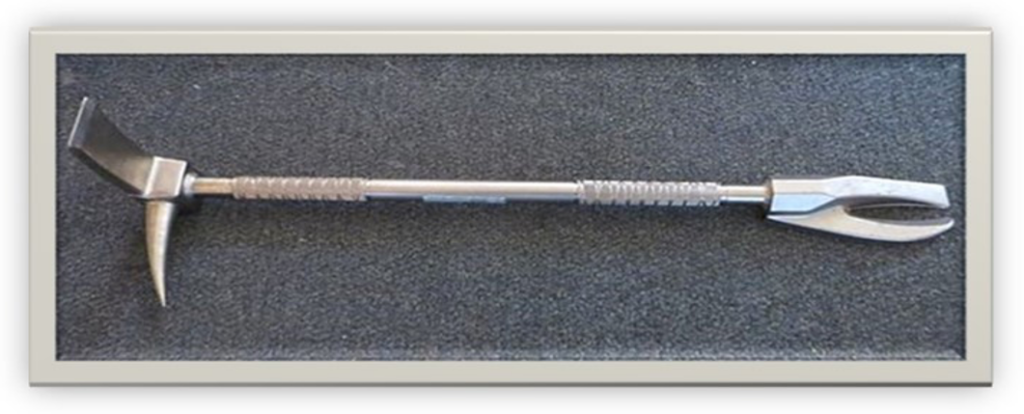 Our students can't do this without having a great foundry partner. If your foundry is interest in partnering with a team, contact Raymond Monroe at monroe@sfsa.org or Renee Mueller at rmueller@sfsa.org.
For more detailed information about the competition CLICK HERE.
In addition, Russ Rosmait of Pittsburg State University wrote a great article on their team's entry in the 2023 Cast in Steel Competition. The article, covering their teams efforts to design, make, and test their investment cast Zulu spear point is a good read and can be found here: Article
T&O Conference & Workshop
SFSA's T&O committee is pleased to announce the 2023 T&O program.  Supported by steel foundry members that make up the Society, the T&O conference is the premiere steel casting event in the world.  The 77th conference will continue the legacy of technical and operating topics of today that will provide value to the industry for many years to come.  This year's workshop will highlight Next Generation Manufacturing and Metallurgy.  The conference covers everything from melting to foundry engineering to molding to finishing to management to EHS to quality to technical & featured research.  Registration is now open:  https://sfsa.site-ym.com/event/TO2023.
High Alloy Meeting
Will be held on October 24th in Bethlehem, PA.  Presentation topics include:  monel research project (John DuPont – Lehigh), PWHT-free stainless research project (Michael Annor – Lehigh), manufacturing an 11 ton Haynes 282 casting (Mike Maxeiner – M&T), fundamentals of steel refining (Jack Lilley – SFSA alumni) and steel casting research (David Poweleit – SFSA).  After the meeting, we will tour McConway & Torley – Kutztown including their vacuum ladle degas process.  Please RSVP by email before 10/9.
Future Leaders Group Meeting
Will be held on October 25th in Lebanon, PA.  The Future Leaders group helps prepare foundry personnel for greater responsibilities and ensure that steel casting generational knowledge is transitioned to the next floor supervisor, general manager, COO, engineer, metallurgist or VP of Technology. The group is intended for people that are new to the steel foundry industry with potential to aspire to greater responsibilities within the foundry, and is for both people from the technical and operating sides of the foundry that self-identify or are designated by their supervisor.  The meeting will start with a tour of PRL's foundry (ITAR restrictions limit this to US Persons only).  The meeting will offer an opportunity to network with peers to develop life-long partnerships, and provide knowledge and new ideas you can bring back to your foundry.  Greg Raudenbush, PRL, will provide a presentation sharing his knowledge as one of our industry's subject matter experts.  David Poweleit, SFSA, will present on society resources to take advantage of at your foundry.  Please RSVP by email before 10/9.
Cybersecurity Resources for SFSA Members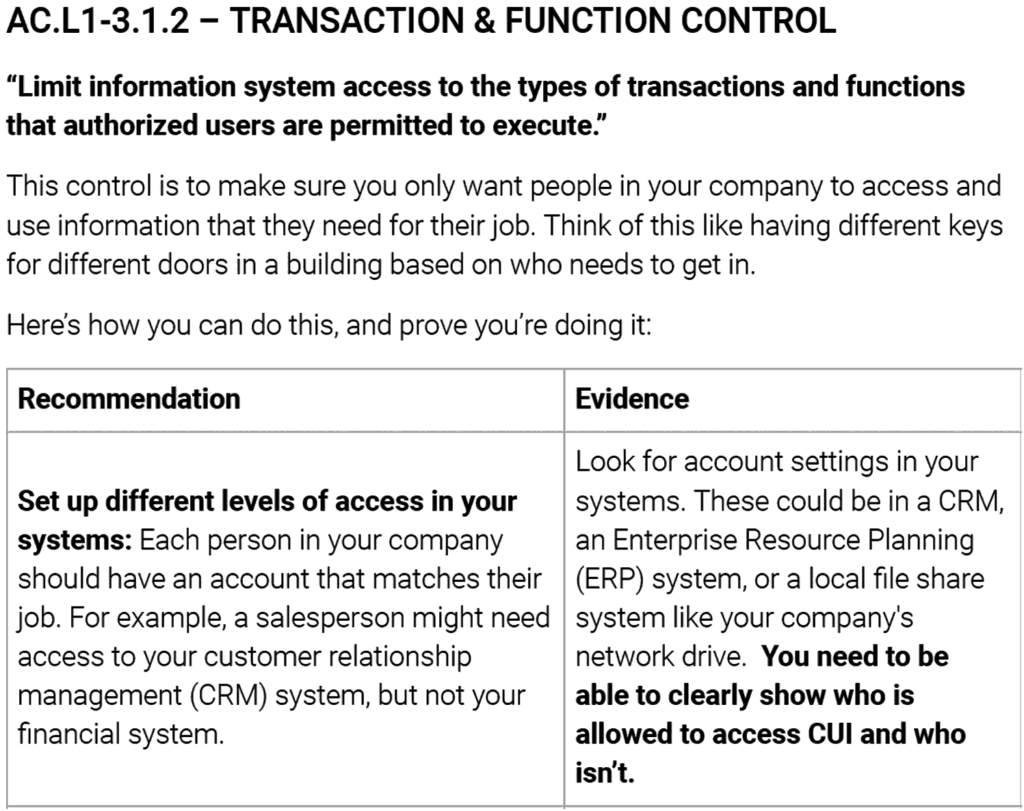 SFSA has contracted with Adelia Risk, led by CMMC Registered Practitioner Josh Ablett, to develop a resource guide to enable foundries to address the 110 controls in NIST 800-171 and CMMC v2 and will be made available by the end of the year. The document is organized by Practice area (e.g., Access Control, Audit and Accountability) and provides guidance for meeting each of the 110 controls. It will be focused on companies looking to reach CMMC Level 2 compliance, which is expected to be required of any DLA supplier that handles Controlled Unclassified Information (CUI).
SFSA has also engaged Josh to provide a limited number of consulting hours on CMMC for free to SFSA members. Please email Josh – josh.ablett@adeliarisk.com – if you'd like to book a consultation or have any questions about your own CMMC compliance efforts.
Market News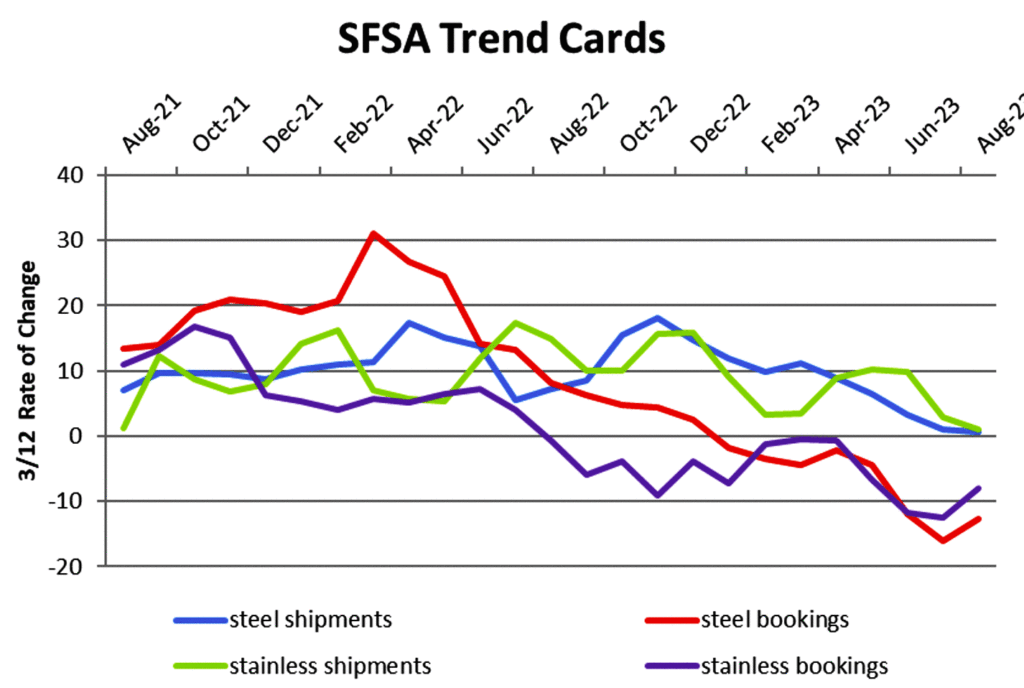 The August SFSA trends shows bookings for carbon and low alloy and stainless steel castings continue to trend below year ago levels since the beginning of this year. August shows a slight uptick for both, hopefully signaling the bottom of the trend. Shipments remain near year ago levels and backlogs trended down slightly with a median backlog for steel castings at 10 weeks and stainless at 9 weeks.
ITR reports that declining corporate profits, elevated interest rates, and weakening consumer finances signal further downside pressure on the economy is likely and supports their expectation for decline in manufacturing in 2024, with most commencing decline in the near term.
For additional insight on what may lie ahead for next year, the SFSA 2024 Market Forecast, presented last month at the SFSA Fall Leadership Meeting, is now available online here.
Ramblings with Raymond
There are five more episodes of Ramblings with Raymond over on our YouTube channel, with several more on the way. Subjects that have been discussed include graphite molding, boron steel, chills, industrial experiments, and quenching and heat treatment. Head on over and take a look – subscribe if you want to see more, and please leave a comment – feedback is always welcome.
Casteel Commentary
While the dramatic changes imposed on our businesses by the adoption of information technology, new automation and control strategies, new competitors like additive manufacturing, new production techniques like printed molds are affecting us, we also need to recognize cultural shifts that may play a bigger role in determining the changes we need to understand.
Using additive manufacturing as an example, it does allow alternatives to steel castings and in that sense is a potential competitor but more fundamentally, it is a huge opportunity for us. Printed molds and cores, patterns, waxes and shells allow us to be faster in making new designs, lowers the cost to try alternative geometries. It facilitates the technology we will need to automate much of our finishing operations. Perhaps most important, new design engineers will not be designing to fabricate standard mill products but will make complex geometric components to maximize performance that will facilitate new casting designs.
In business, one of the changes between us and our customers is the reduction in our industry of the number of possible suppliers. For most of the past 40 years, there has been an excess of suppliers and that limited our ability to prosper. When capacity was limited and prices rose in 2004 and later, globalization limited the ability to realize the profitability needed for modernization and innovation. With the erosion of globalization and the rapid changes in the global system, customers seeking to return to our region face the reality of limited qualified producers. This shift will make it incumbent on our industry to identify the best customers that will survive and want to collaborate to ensure our capacity and capability to meet their needs and requirements. Some of this is occurring, but just like the fact that we have not fully understood or adjusted to this new reality, many of our customers have not.
All of that diatribe was a set up to talk about something else, recruitment and retention.
Like the shift from a market where there were a number of suppliers bidding for the order to limited suppliers determining which orders to take, the current generation of potential employees are limited. This limitation means that culturally, our new employees have a choice of where to work. They also have experienced early life where money was not the limit for their choices. We still have practices and expectations that young people we are trying to hire are looking for a career that is well compensated with good retirement and health care benefits. Young people have different needs that they are trying to fill when they look for employment.
The dramatic reduction in family and household size along with the practice of both parents working means that this generation has no need to work. That's not true of all but is true of many if not most. It is also true culturally, so even those who need to work are not primarily motivated by compensation. This new culture of young people is characterized by anxiety and depression. They are anxious to find a community so they have a sense of meaning and purpose and they want to see that they make a difference. Like customers of ours who recognize the shift in the marketplace and seek to recruit and support us to ensure reliable supply, we need to recognize the shift in culture of the new generation of employees and structure our efforts to ensure prospects see and new hire experience our interest and engagement in them as individuals. We need not only to care about them, but we also need to show that we do.
We need to organize our company culture to show that we as a team, a community, are working together to make a difference. I have been intrigued with a new friend Dave Hataj who recognized this problem and has developed a program to help young people who are not interested academically find life with a purpose in making things. His website is: https://craftsmanwithcharacter.org/
His program seeks to encourage young people to have the values needed to not only succeed in their job but to grow as a person.  Core to his project is the Craftsman Code:
1) I am not the center of the universe. – The trades stand on the shoulders of those who have come before us, who learned and contributed to the body of knowledge (The Machinery's Handbook). Great accomplishments and advancements have happened, and will happen, because of a commitment to the collective good of the trade. I am always respectful and appreciative of the past and present, recognizing I am part of the great fraternity of practitioners of my trade.
2) I do not know everything, nor nearly as much as I think I do. – I am always learning. I value and respect those who teach me. This includes even those who are learning for the first time, as they, too, can teach me new things. No one person can know everything, but collectively, our trade continues to grow in knowledge and skill.
3) There is dignity and purpose in knowing my trade. – There is nothing better in work than to engage my hands, head, and heart. My head learns knowledge, but my hands test if it is true. My hands do the work, but my heart gives it meaning. My heart has passion, but my hands and head give it expression.
4) The world needs me. – The world as we know it would not function without my trade. From basic necessities to extravagant luxuries, my trade supports them all. Therefore, I will commit to giving my best efforts.
5) Pay is a reward for my efforts, but not my main motivation. – I need money to live, but I do not live for the money. I do not believe in the lie that money will make me happy. Rather, my reward is in the journey-in making something of quality, that is right and that benefits the world, something that uses my creative talents.
6) Every person has unique gifts and talents. – There is only one me. Although I am always learning, I bring a unique skill set and perspective to every job. It is my responsibility to discover my talents and to apply them in meaningful work.
In talking with Dave, his experience is in presenting these ideas to students and engaging them individually trying to understand them as a mentor, they open up and are fundamentally interested in doing something that matters. He thinks that the next generation can be outstanding if we can understand them, make them part of our team and show them how what they do is important and needed.
Raymond
P.S. See also: Mike Rowe Wants More Philosopher-Welders
STEEL FOUNDERS' SOCIETY OF AMERICA
BUSINESS REPORT
SFSA Trend Cards
(%-12 mos. Ago)
12 Mo Avg
3 Mo Avg
August
July
June
Carbon & Low Alloy
Shipments
8.8
0.7
2
0
0
Bookings
-4
-12.7
0
-13
-25
Backlog (wks)
12.2
10.2
10.7
9.7
10.1
High Alloy
Shipments
7.5
1
0.6
-2.5
5
Bookings
-6.3
-8
-6.5
-7.5
-10
Backlog (wks)
10.6
9.2
9.1
9
9.5
Department of Commerce
Census Data
Iron & Steel Foundries (million $)
Shipments
1,597.90
1,610.30
1,613
1,594
1,624
New Orders
1,599.60
1,590.00
1,566
1,562
1,642
Inventories
2,978.80
3,142.00
3,145
3,128
3,153
Nondefense Capital Goods (billion $)
Shipments
82.9
83
83.4
82.3
83.3
New Orders
88.9
93.7
86.1
88.7
106.4
Inventories
221.4
225.6
226.1
225.3
225.4
Nondefense Capital Goods
less Aircraft (billion $)
Shipments
74.3
74.1
74.4
73.8
74
New Orders
74.1
73.6
73.9
73.3
73.6
Inventories
157.6
162.1
162.5
162
161.9
Inventory/Orders
2.1
2.2
2.2
2.21
2.2
Inventory/Shipments
0
2.2
2.18
2.19
2.19
Orders/Shipments
0
1
0.99
0.99
0.99
American Iron and Steel Institute
Raw Steel Shipments
(million net tons)
7.3
7.6
7.7
7.6
7.7