Capital investment has long been a problem for our industry. This month's Casteel Commentary discusses opportunities to work together to access funding that is beginning to be allocated to support our needs.
Cast in Steel 2024 Competition
The 2024 SFSA Cast In Steel (CIS) competition is on April 22, 2024, in Milwaukee, Wisconsin with the awards presented on April 23, 2024.
University students will use modern casting tools to creatively design and produce a functioning version of a Halligan bar from design conception to performance.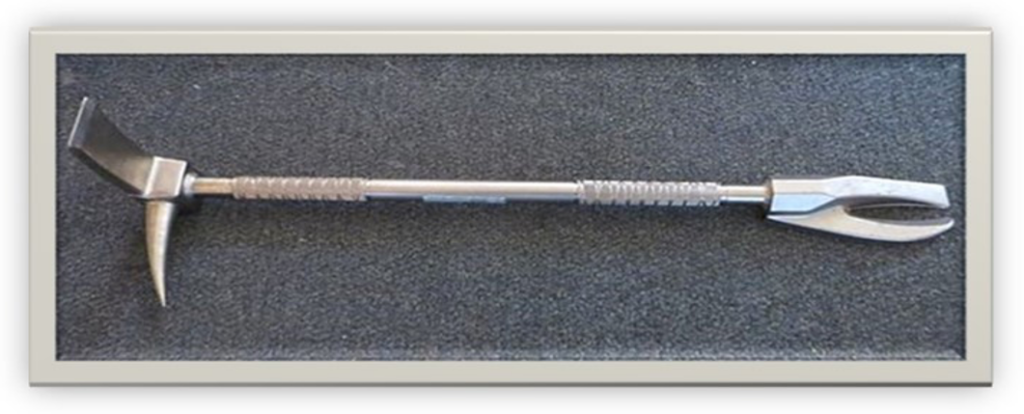 We've started producing episodes of Raymond's podcast with information on the Halligan Bar with Forged In Fire's Ben Abbott, Tradesman Fire & Fabrication's Sergeant Andrew Pristach, and also Caelan Kennedy from SFSA.
SFSA staff will promote the competition and past winners at the FEF Industry Conference in Chicago later this month. Several faculty and students plan to enter a team. The registration deadline is December 1, 2023. To date, 8 teams have enrolled from the following schools:
California State Polytechnic University-Pomona (2 teams)
Instituto Tecnológico de Morelia
Iowa State
Michigan Tech/University of Alabama
Purdue University
Instituto Tecnológico de Saltillo
Texas A&M
If your foundry is interest in partnering with a team, contact Raymond at monroe@sfsa.org or Renee at rmueller@sfsa.org.
77th T&O Conference
Final reminder to register for the 2023 T&O Conference on December 6-9 in Chicago (hotel information can be found on the registration site – room block closes November 21).  The conference program includes sessions covering everything from melting to foundry engineering to molding to finishing to management to EHS to quality to technical & featured research.  The T&O workshop will highlight Next Generation Manufacturing and Metallurgy.
Market News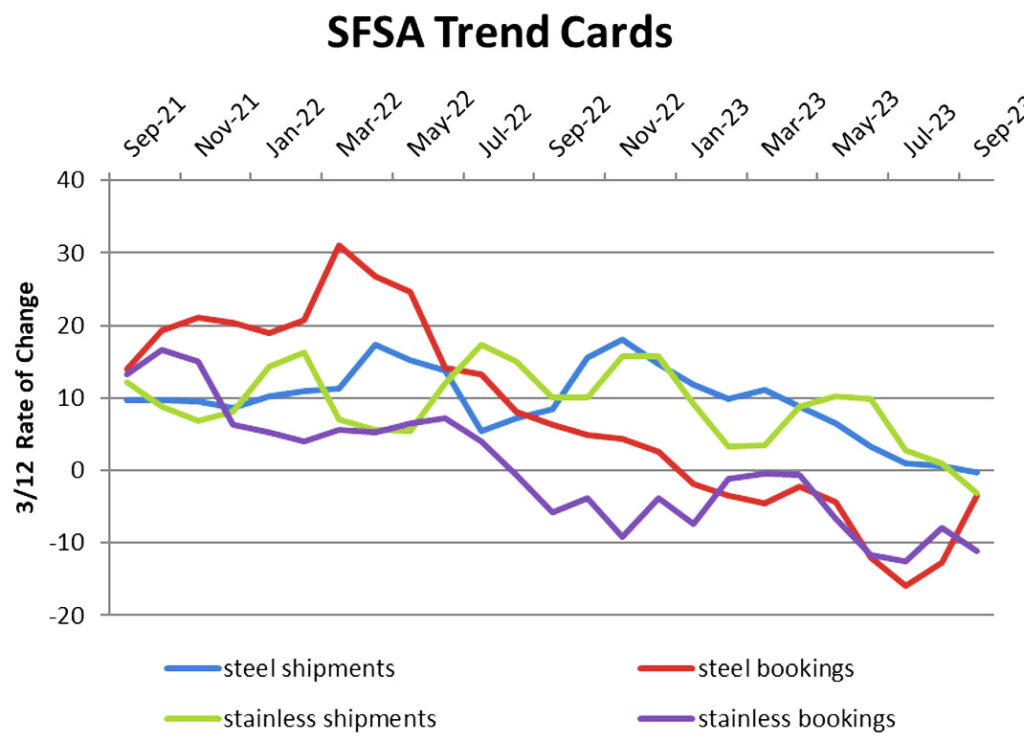 The September carbon and low alloy steel casting shipments from the SFSA trends dropped below the year ago level for the first time since March 2021. Steel casting bookings remain in negative territory but have been trending closer to parity of 2022 level. Stainless bookings and shipments both declined in September. Reported backlogs remain unchanged at 10 weeks and 9 weeks for steel and stainless steel castings respectively.
The August SFSA trends shows bookings for carbon and low alloy and stainless steel castings continue to trend below year ago levels since the beginning of this year. August shows a slight uptick for both, hopefully signaling the bottom of the trend. Shipments remain near year ago levels and backlogs trended down slightly with a median backlog for steel castings at 10 weeks and stainless at 9 weeks.
September data from the ITR Trends Report shows US Metalworking Machinery New Orders and US Mining Production (excluding oil and gas) are already declining on an annual basis. Most of the manufacturing sectors that ITR tracks are either rising at a slowing pace or moving horizontally and are expected to transition to a decline in 2024. US Oil and Gas Extraction Production remains in a growth phase and is expected to continue to rise through the first half of next year and not decline until 2025.
We need your input!
The SFSA Marketing Committee will be meeting next month prior to the SFSA T&O Conference to finalize the 2024 SFSA Market Forecast. The committee would appreciate receiving your input on the markets that you serve in support of the forecast. Please take a moment to complete the market forecast survey: https://www.surveymonkey.com/r/SFSA_4Cast24. Responses are kept confidential and will be aggregated with other member responses. Markets included in the forecast are as follows:
Markets
Rail/Transit – frames, couplings, bolsters, track components, etc.
Mining Equipment – axle housing, frame components, suspension, gear case, etc.
Mining Consumables – G.E.T., liners, hammers, grate plates, cement and aggregate components
Construction Equipment – axle components, sprocket, end caps, transmission housing, etc.
Truck – Class 8 – suspension brackets, brake components, axle spindles, fifth wheels, etc.
Pump – housing, impeller, covers, bowls, etc.
Valve – strainer bodies, bonnets, butterfly valves, etc.
Oil & Gas – port adapters, brackets, levers, slip linkages, etc.
Military – ground vehicle and maritime components
Industrial Furnace & Oven Mfg. – furnace, heat treat, steel mill components – rollers, links, baskets, etc.
Industrial Machinery – Industrial equipment parts – pulp & paper, food, shotblast – plates, wheels, sprockets, flanges
Ramblings with Raymond
There are now 14 episodes of Ramblings with Raymond over on our YouTube channel, with more on the way. Head on over and take a look – subscribe if you want to see more, and please leave a comment – feedback and ideas for discussion topics are always welcome.
Casteel Commentary
Capital for Modernization, Innovation and Automation for Steel Foundries in U.S.
There is a growing recognition that capital intensive industries like steel foundries are essential to national and economic security. There is also a growing awareness that these businesses have been hobbled by economic conditions and are less capable of meeting the current and expected future demands. In particular, steel castings have been identified as particularly problematic.
SFSA members have been directly involved in these discussions and I have been tasked in a leadership role to understand the financial needs and policy changes that are important to restore our industry to robust health with the most advanced quality, performance and value. This will depend on modifying the current state of affairs to allow us to become profitable enough to invest in the technology and facilities needed.
Additive manufacturing is seen as an aid to allowing us to provide the needed products and value both integrated into our casting process and as a supplement to that. Renewable and reliable energy will require infrastructure that will depend on the structural components and large equipment that both depend on steel castings. National security depends on advanced weapon systems that rely on high performance steel castings. All of these issues are currently in discussion with policy makers and money has begun to be allocated to support our needs.
Our need for investment and capital is poorly structured to access the funds that are becoming available. Individual plants and companies are small and medium sized enterprises with limited staff and time and little experience in participating in these type programs. The programs are set up with larger OEM type companies in mind and expect to make large grants that will reach the few major players in the marketplace.
The SFSA Board has asked that we explore the ability to combine our needs for support into a combined program or a syndication to consolidate the need and organize a structure to allow SFSA to facilitate a larger program that meets the policy goals of the larger agencies while allowing our individual members to access these resources.
This note is to ask you if this type of arrangement could be helpful for your company. We will need to do a survey of the interested companies to determine the type and size of investments needed to allow modernization, innovation and automation. Please send me a note if you are interested in this as a possibility. The likely types of efforts might include:
Plant modernization – investments in buildings, facilities, major dated equipment, etc.
Energy policy – the plant investments might be structured to allow some energy policy goal like the installation of solar panels, the electrification of furnaces, the use of additive to avoid the energy consumed in tooling, etc.
National security – investments in additive, vacuum or pressure casting, refining, capacity, gaining and maintaining qualifications, NDT, etc. There is also an interest in buying the process capability to ensure the ability to meet surge requirements.
Others – with the current interest there are a number of OEM supported programs to
Please send me an email or note if you are interested in this as a possibility.
Thanks,
Raymond
STEEL FOUNDERS' SOCIETY OF AMERICA
BUSINESS REPORT
SFSA Trend Cards
(%-12 mos. Ago)
12 Mo Avg
3 Mo Avg
September
August
July
Carbon & Low Alloy
Shipments
7.2
-0.3
-3
2
0
Bookings
-4.4
-3.5
2.5
0
-13
Backlog (wks)
12
10.4
10.9
10.7
9.7
High Alloy
Shipments
6.5
-3.1
-7.4
0.6
-2.5
Bookings
-6.8
-11.2
-19.5
-6.5
-7.5
Backlog (wks)
10.4
9.2
9.5
9.1
9
Department of Commerce
Census Data
Iron & Steel Foundries (million $)
Shipments
1,605.10
1,599.00
1,595
1,608
1,594
New Orders
1,610.30
1,599.00
1,643
1,592
1,562
Inventories
3,025.30
3,178.00
3,244
3,162
3,128
Nondefense Capital Goods (billion $)
Shipments
82.9
82.9
83
83.3
82.3
New Orders
89.9
92.1
101.8
85.8
88.7
Inventories
222.4
226
226.7
226.1
225.3
Nondefense Capital Goods
less Aircraft (billion $)
Shipments
74.3
74.2
74.3
74.4
73.8
New Orders
74.1
73.8
74.3
74
73.3
Inventories
158.7
162.5
163.1
162.5
162
Inventory/Orders
2.1
2.2
2.2
2.2
2.21
Inventory/Shipments
0
2.2
2.2
2.18
2.19
Orders/Shipments
0
1
1
0.99
0.99
American Iron and Steel Institute
Raw Steel Shipments
(million net tons)
7.3
7.5
7.3
7.7
7.6