This month's Casteel Commentary celebrates the successful Cast in Steel 2023 competition. It also urges more member attendance and participation. If recruiting bright and interested new employees is a priority, you have no excuse not to become active in this program!
Research Review – July 18-20
This year's Research Review is organized with three meetings. It starts with research related to steel casting design (Design Day). Designers and users of steel castings are invited to attend. Other steel casting R&D will be presented by research partners at the review for members and government partners only. After the review, members are invited to participate in a future foundry planning meeting (SFSA Roadmap).
Please make your plans to participate in the annual SFSA Research Review on July 18-20. This year's meeting will be held in-person in Rosemont, IL. The Review covers the latest in both Carbon & Low Alloy and High Alloy steel casting research under the DID, ICT, SPI, and STAR programs. The meeting is also your opportunity to interact with the researchers and provide industry steering. The event vets our research portfolio to select the R&D projects to be featured at the National T&O. Registration is required and must be completed by June 27 https://sfsa.site-ym.com/event/rr2023
As in previous years, we request you consider inviting a handful of key contacts at your customer or even a potential customer for the Design Day on July 18. A separate registration link is provided for non-members – https://sfsa.site-ym.com/event/RR2023Customer Contact Caelan Kennedy if you have any questions.
SFSA Roadmap – July 20-21 in Rosemont, IL
Members are invited to identify a key individual from their foundry to participate in a strategic planning meeting to help layout a roadmap for the steel foundry of the future. Someone from your foundry who best understands current needs and future opportunities (where do we need to go to have the steel foundry industry of the future and what do we need to do to get there). We'll spend Thursday afternoon brainstorming. Ideas will be organized and prioritized by voting on Friday morning to develop the strategic plan. Results shared and attendees should be able to head home by mid-morning.
Order Your 2023 Cast in Steel T-Shirt Today
This year's Cast in Steel t-shirts are now on sale! Show your support by purchasing the 2023 Cast in Steel t-shirt for just $15.00 each plus tax and shipping. Click HERE to place your order. Your order needs to be placed by Friday, June 2nd.
If you have any questions feel free to contact Renee at rmueller@sfsa.org.
Fall Leadership Meeting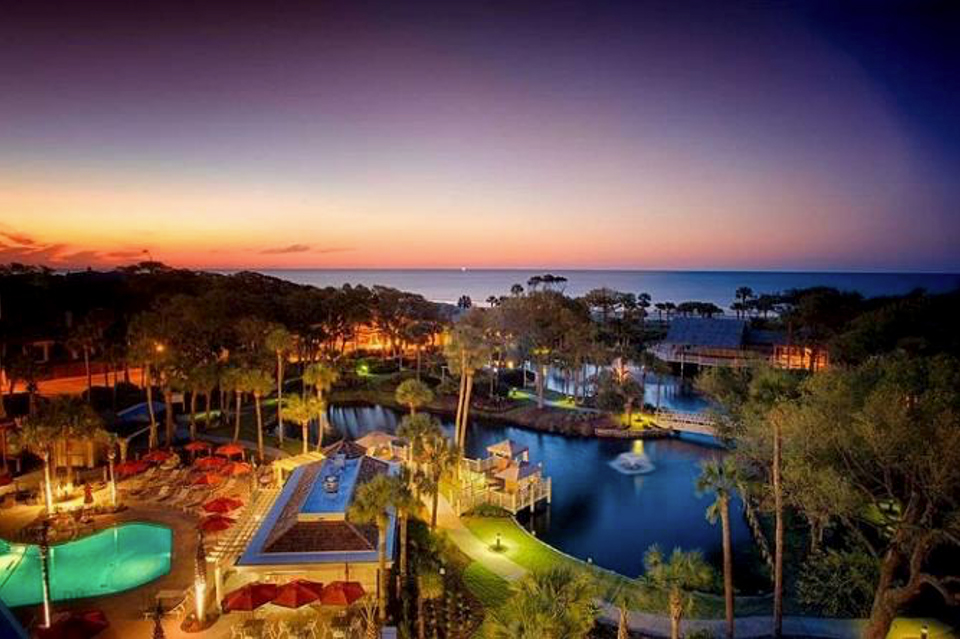 Mark your calendars to attend the 2023 Fall Leadership Meeting which is being held at Sonesta Resort in Hilton Head, SC on September 22-25. Registration for the meeting will open in July. The meeting schedule will be the same as last year, centered over the weekend while providing the same opportunities to learn and network while minimizing time away from the foundry. Business sessions will include smart manufacturing, economic and global update, SFSA Market forecast, EHS compliance, Raymond's commentary, and more.
Market News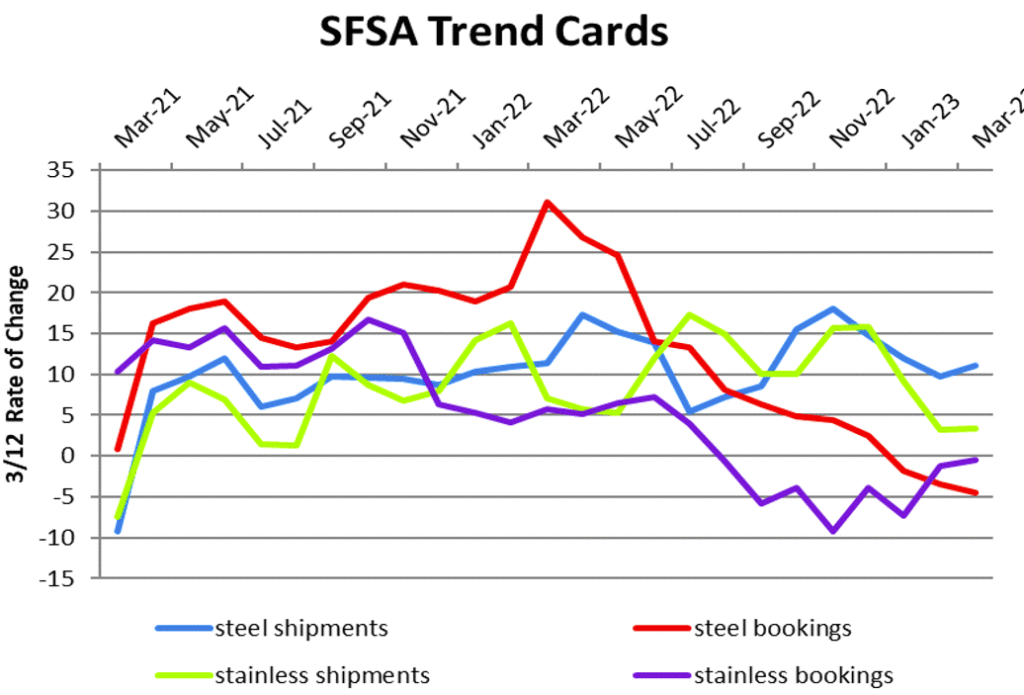 The March SFSA trends report showed positive year over year growth for steel and stainless shipments and stainless bookings. Carbon and low alloy steel bookings remains below year ago levels. The median backlog reported for steel castings is edging lower to 13 weeks while stainless remains unchanged at 11 weeks.
In the May ITR Trends Report, ITR made some minor adjustments to their forecast across most all of the manufacturing sectors based on the Federal Reserve Board's annual revision to historical production data. However, the forecast still maintains that most of the manufacturing markets will end the year in Phase C, Slowing Growth, and enter Phase D, Recession, in 2024. The majority will be in Phase B, Accelerating Growth, by the end of 2025. ITR is still forecasting a mild recession by early 2024 but cautions that factors such as high interest rates engineered by the Fed.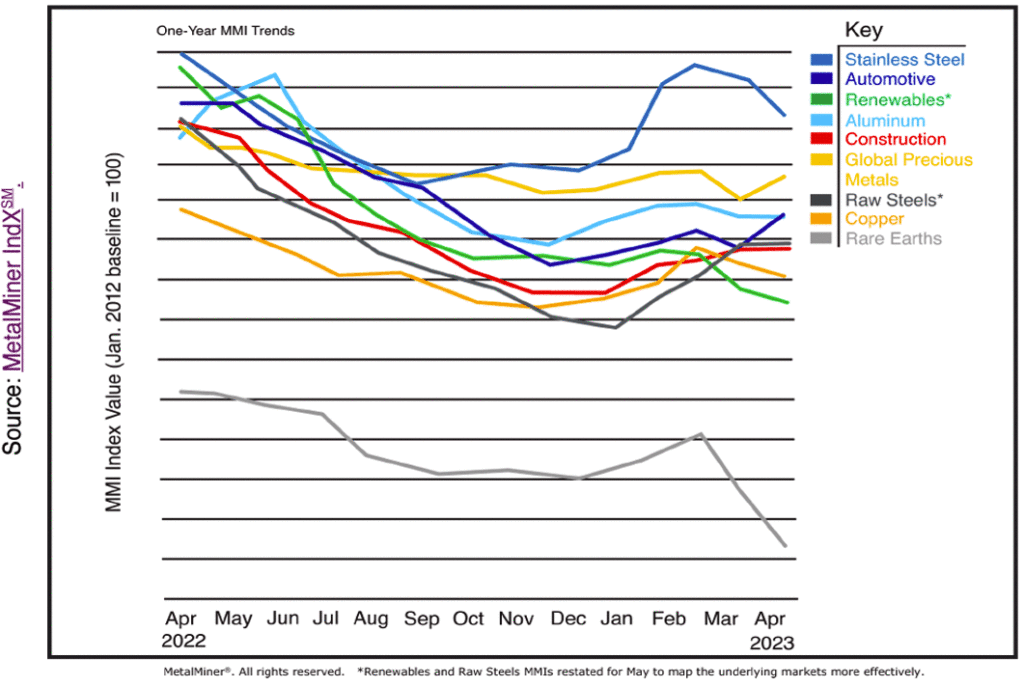 The chart above is a one year snapshot of Metal Miner's Index trends which illustrates month-to-month price trends of several subindexes. Stainless, raw steel, copper, aluminum, and rare earths are all trending sideways or declining in recent months. Most notable is stainless fell nearly 8% from March to April based on recessionary concerns and softening nickel prices. In the same timeframe, rare earths declined more than 15% based on slowing demand and Tesla announcing that they plan to eliminate use of rare earth elements in their engines and create a permanent magnet electric vehicle motor.
Casteel Commentary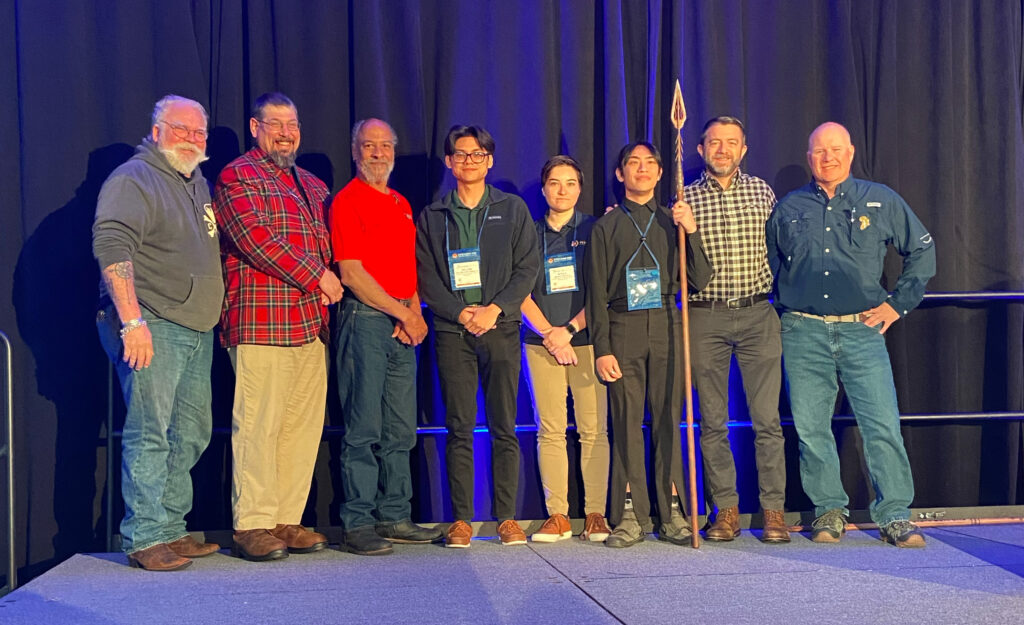 Our Cast in Steel competition has succeeded beyond any expectation and hope. This year, 42 teams from 34 universities signed up and 36 spears were produced. We had over 300 people at the competition and the level of enthusiasm was incredible. Every team was on the edge of their seat during the testing. The videos of this year's competition are available on the Cast In Steel website (www.castinsteel.org), and on SFSA's YouTube channel.
One important asset and value is the support of our judges. Having Ben and Dave from Forged in Fire makes the competition important and meaningful to the participants. Being able to talk with them about their own spear is precious. Our other judges are essential to help the students understand the value of their participation and compliment them on their skill.
Judges:
Ben Abbott – Forged in Fire
Dave Baker – Forged in Fire
John Cory – Magotteaux, Inc.
Phillip Harrison – Penumbra/Design Studio
Jack Lilley – SFSA Alumni
Pat Nowak – Scot Forge
We were excited to have the full support of IBAS for the competition this year. They are a foundational resource and committed to supporting our industry and happy to facilitate this effort to recruit and develop the leaders for our future.
SPONSOR
The Industrial Base Analysis and Sustainment (IBAS) Program run by the Innovation Capabilities and Modernization (ICAM) Office in the Office of the Assistant Secretary of Defense for Industrial policy (ASD IBP).
Our co-sponsors play an important role in promoting and collaborating to make this competition possible.
CO-SPONSORS
American Foundry Society (AFS), presenting sponsor.
Investment Casting Institute
MAGMASoft
Non-Ferrous Founders' Society.
Winners
The winners of this year's Cast in Steel competition are given below.
GRAND PRIZE WINNER: California Polytechnic University, Pomona – Steel Broncos
2nd – University of Wisconsin – Platteville – Pour'n Pioneers
3rd – Grand Valley State – GVSU Casting Club
Best Design and Process
1st – Grand Valley State – GVSU Casting Club
2nd – University of Wisconsin-Platteville – Pour'n Pioneers
3rd – Georgia Southern – Casting Eagles AND Mixed Team Missouri University of Science and Technology, Michigan Tech, Georgia Southern, University of Wisconsin Platteville, North Dakota College of Engineering & Mines
Best Authentic
1st – University of Wisconsin-Platteville – Pour'n Pioneers
2nd- University of Wisconsin-Madison – Badgers CIS
3rd – Grand Valley State – GVSU Casting Club AND California Polytechnic University, Pomona – Steel Broncos
Best Casting
1st – California Polytechnic University, Pomona – Steel Broncos
2nd – California Polytechnic University, San Luis Obispo – Cal Poly SLOmies
3rd – California Polytechnic University, San Luis Obispo – Poly Pointers
Best Video
1st – Penn University State Behrend – Their video: https://youtu.be/RD2XkUWgm6I
2nd – California Polytechnic University, San Luis Obispo – Cal Poly SLOmies – Their video: https://www.youtube.com/watch?v=TlBoEvPjnKo
3rd – Central Michigan University – Their video: https://youtu.be/iA5-lNm_2po
Best Performance
1st – California Polytechnic University, Pomona – Steel Broncos
2nd – University of Wisconsin-Madison – Badgers CIS
3rd – University of Wisconsin-Platteville – Pour'n Pioneers
Future Plans
Our Cast in Steel Competition is the envy of our colleagues in forging and additive. Encouraging students to make things in steel and changing the image of manufacturing as desirable is important to us. We will be partnering with America Makes for an Additive in Steel event and the Forging Industry Association for a Forged in Steel event next year. SFSA is recognized as a leader in technology development. With the success of Cast in Steel, we are also seen as a leader in workforce recruitment and development. We are planning to hold Cast in Steel 2024 in Milwaukee during the AFS Casting Congress on April 22 and 23, 2024.
We are also considering a high school casting competition to encourage more interest in our industry.
Thanks to the support we get from you our members, the students are impressed with our ability to cooperate with them to make their entry and with our technology and capability. We are always open to your suggestions for improvements and changes.
Thanks!!
Raymond
STEEL FOUNDERS' SOCIETY OF AMERICA
BUSINESS REPORT
SFSA Trend Cards
(%-12 mos. Ago)
12 Mo Avg
3 Mo Avg
March
February
January
Carbon & Low Alloy
Shipments
12.1
11.2
10
10
13.5
Bookings
4.6
-4.5
-2
-3.5
-8
Backlog (wks)
13.4
13
10
15
14
High Alloy
Shipments
10.3
3.4
6
2.2
2
Bookings
-0.7
-0.4
5
-1.8
-4.5
Backlog (wks)
11.8
11
11
10
12
Department of Commerce
Census Data
Iron & Steel Foundries (million $)
Shipments
1,528.80
1,623.70
1,620
1,634
1,617
New Orders
1,532.80
1,599.30
1,603
1,629
1,566
Inventories
2,741.60
2,808.00
2,806
2,799
2,819
Nondefense Capital Goods (billion $)
Shipments
82.6
84.1
85.7
82.8
83.7
New Orders
86.8
84.5
89.3
81.1
83.1
Inventories
214.8
217.5
215.2
218.9
218.4
Nondefense Capital Goods
less Aircraft (billion $)
Shipments
74.2
75
74.6
74.9
75.3
New Orders
74.5
74.6
74.1
74.6
75.1
Inventories
150.1
153.9
154.3
153.9
153.6
Inventory/Orders
2
2.1
2.08
2.06
2.04
Inventory/Shipments
0
2.1
2.07
2.05
2.04
Orders/Shipments
0
1
0.99
0.99
1
American Iron and Steel Institute
Raw Steel Shipments
(million net tons)
7.3
7.1
7.4
6.9
7.1