Capacity, Capital investment and China. Challenges abound.
Research Review, July 19-22
Please make your plans to participate in the annual SFSA Research Review on July 19-22. This year's meeting will be held in-person in Rosemont, IL. The Review covers the latest in both Carbon & Low Alloy and High Alloy steel casting research under the DID, ICT, and SPI programs. The meeting is also your opportunity to interact with the researchers and provide industry steering. The event vets our research portfolio to select the R&D projects to be featured at the National T&O. Registration is required and must be completed by June 27, Monday: https://sfsa.site-ym.com/events/EventDetails.aspx?id=1640040 .
Similar to previous years, we request you consider inviting a handful of key contacts at your customer or even a potential customer for the Design Day on July 21-22. A separate registration link is provided for non-members here: https://www.surveymonkey.com/r/7CW752N . For any questions, contact Diana David.
Spring Leadership Meeting
Please make plans to attend the SFSA Spring Leadership Meeting on June 7-8 at the Delta Hotel in Muskegon, MI. The Spring Leadership meeting will start on Tuesday after the SFSA Board meeting and include lunch and an industry roundtable. The marketing committee will meet in the afternoon, and everyone is welcome to attend.
On Wednesday, the group will tour three foundries: Eagle Alloy, Ravenna Ductile Iron, and Betz Industries.
Breakfast, lunch, and transportation will be provided. You must register online, the cost is $185. We hope to see you there!
Click here to register

Monday, June 6

3 pm: Executive Committee – Lakes Boardroom
Tuesday, June 7

8 am – 11 am: SFSA Board of Directors (breakfast provided) – Mona Lake
11:30 am – 2:30 pm: Spring Leadership Meeting (lunch provided) – Mona Lake
-Captive Insurance Program
-SFSA Industry & Research Update
-Industry Roundtable
2:30 pm – 4:30 pm: Marketing Committee Meeting – Mona Lake
5:30pm – Tour and Dinner at USS Silversides Museum
Wednesday, June 8

8 am – 5:30 pm: Foundry Tours – Eagle Alloy & Eagle Precision, Betz Industries and 1 additional facility (TBD) (bus, breakfast and lunch provided)
Hotel Info:
Delta Hotels by Marriott Muskegon
939 3rd St
Muskegon, MI 49440
Group Rate: $149/night

Reservation Phone Number: 833-999-0181
Online Reservation: SFSA Spring Meeting
Reservation Cut-Off Date: 5/22/22
Member Interns: Peaslee & Schumo Scholarships
Recruiting students to join our industry and grow into leadership positions remains a critical need in the steel casting industry and a strategic initiative of the Society. The Steel Founders' Society Foundation aims to attract the next generation workforce by providing scholarships to student interns. To compete for the scholarships, interns are required to work at a member foundry and carry out a specific task or investigation. Selected works are presented at the annual T&O conference. If you currently have or plan to have an intern work at your foundry in 2022, be sure to encourage them to submit a paper and presentation to Diana David by August 19. Find out more about the scholarships at https://www.sfsa.org/scholarships
Next Generation Manufacturing and Future Leaders Meetings
The third Next Gen Mfg (NGM) meeting will be held in Muskegon, MI on June 9. This will again be coupled with our Future Leaders (FL) meeting on June 9-10. The meetings will include a tour of Eagle Alloy and Eagle Precision. Future Leaders will have a Design of Experiment (DOE) seminar with Raymond, learn from one of Eagle's subject matter experts, John Workman, and participate in a roundtable (discuss a current project you are working on). The NGM meeting will feature William Monroe providing an overview of what is possible with AI (such as object detection, image segmentation, reinforcement v. deep learning), the necessary infrastructure, and how to get started (including running deep learning code). Final details for the meeting will be sent to all registered attendees – register here. Contact Dave with any questions.
Cast in Steel 2022 Competition Winners
The Columbus Convention Center was buzzing with excitement as 35 teams, from 28 universities patiently waited to put their Celtic sword through the grueling tests of the CIS competition. All teams had their eyes set to be the Grand Prize Winner. There was a lot of school spirit. Over 200 students attending the competition.
The Grand Prize was based on the top 5 rankings below. Weighting of the scores were as followings: (1) Design and Process 25%, (2) Celtic Sword Authenticity 15%, (3) Casting 25%, (4) Video 10%, and (5) Performance 25%
Grand Prize Winner
University of Wisconsin – Platteville

Team Name: UW Platteville Pioneers

1st place – Design and Process
1st place – Celtic Sword Authenticity
1st place – Performance
Best Casting
California Polytechnic University, Pomona
Best Video (1st place tie)
Instituto Tecnológico de Saltillo
Texas A&M University, College Station, TX

Team Name: Texas A&M Aggies
We would like to thank all our sponsors and judges, for making Cast in Steel 2022 a success. We couldn't have done it without you.
Presenting Sponsor
American Foundry Society (AFS)
Commercial Sponsor
Co-Sponsors
Investment Casting Institute (ICI)
Non-Ferrous Founders' Society
Competition Judges
Ben Abbott
Phillip Harrison
Pat Nowak
Technical Report Judges
George Hartay
Ed Kaczmarek
Pat Nowak
Ken Sandell
Video Judges
Joe Plunger
Robb Edwards
Derek Wienke
Best Casting Judges
Authenticity Judge
Artwork Winner
Jorge Leon Murillo – Fundidora Morelia
Check our website or your email at the beginning of September for information on the 2023 Cast in Steel competition.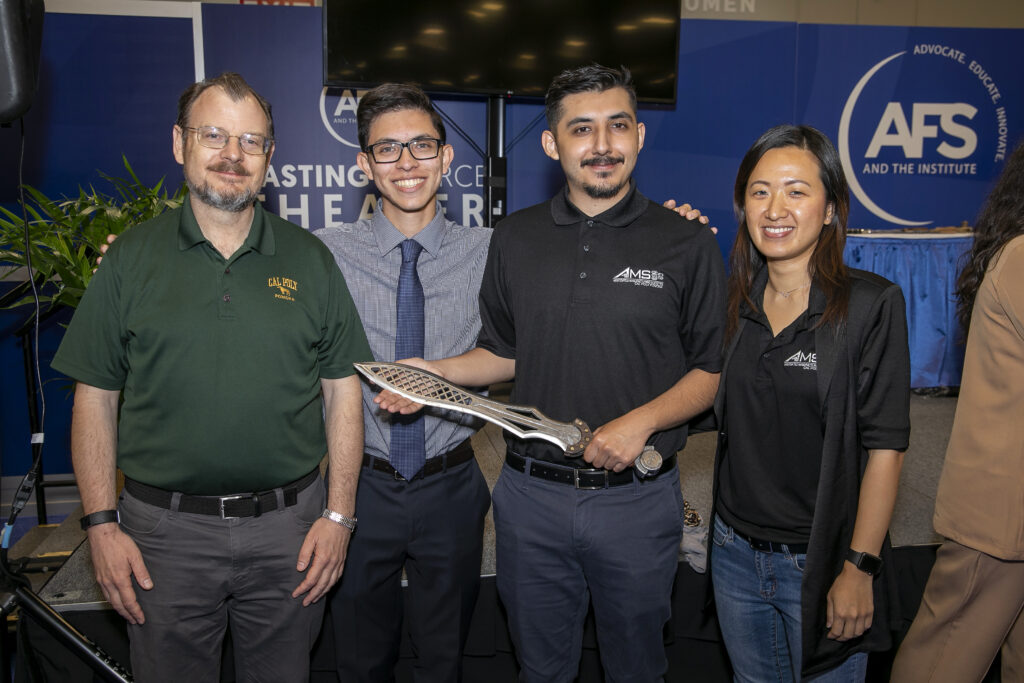 Order Your Cast in Steel T-Shirt Today
Would you like to own the most sought after t-shirt from SFSA? Well, you're in luck! You can now purchase the 2022 Cast in Steel t-shirt for just $18.00 each. Your order needs to be placed by Friday, May 27. Click HERE to see a picture of the t-shirt and to place your order.
If you have any questions feel free to contact Renee at rmueller@sfsa.org.
Celtic Leaf Sword Auction
FEF will be auctioning off the Celtic Leaf Sword that 28 schools (35 swords) produced for the 3rd Annual Cast in Steel competition held by SFSA.
Funds from the auction will be donated back to each school who participated in the competition to support their scholarship funding.
The auction begins today, May 13, and will conclude at 11:59pm (central time) on Friday, May 27. Bids can be made for any of the available swords with the high bidder receiving the sword corresponding to their winning bid. The minimum bid is $100.00, and the minimum step increase bid is $10.00.
To find more information about the swords and to make your bid on the sword of your choice, please click here or go to the FEF website (www.fefinc.org).
To view the videos submitted by the schools, click here.

The winner of the 2022 Cast in Steel competition was Wisconsin-Platteville. That sword will not be auctioned off – but it is pictured above.
We hope you have fun and take advantage of this unique opportunity to own an original FEF student casting. Help us support our FEF schools – bid high and bid often!
If interested, auction winners may also want to consider loaning or donating the sword back to the school for enjoyment & encouragement of future generations.​​​​​​​
Research Highlight
On February 14th, 2022 Steel Founders' Society of America's proposal for the Steel Technology Advanced Research (STAR) Program was awarded by the Defense Logistics Agency (DLA). Minnesota State University is a new partner to SFSA under the STAR program, and is working to promote the hybrid manufacturing initiative of coupling manufacturing processes to optimize and create superior properties or cost-effective solutions. Minnesota State will study Shaped Preforms with a goal to utilize the complex geometry and specialty alloys of castings combined with the enhanced properties of forgings. The forging process has previously shown success in improving properties of castings by reducing microporosity and segregation. The design of preform dies and billet for the intermediate passes is critical in multi-stage forging to control forging quality, save material, eliminate subsequent processes, and reduce manufacturing cost. Minnesota State will compare properties between the traditionally forged part and preform (cast + forged) parts with different reduction ratios to understand the minimum reduction ratio required for the casting to meet or exceed standard forging properties.
In the forging industry, design of process sequences for specific parts has heavily relied on tryout, accumulated experience, and skill of the process designers. To reduce the time and cost associated with the development of forging sequences, numerous rule and knowledge-based expert systems have been developed. However, these systems do not incorporate a systematic study of forging shapes and their precursors. Most of the studies are purely mechanistic involving simulations, physics-based equations and plasticity theories. They might work in some simple scenarios but fail in more real-life applications. There is a need of systematic study involving real life forging shapes to create a model which is not purely mechanistic but also takes the data from experiments into account to create a system which can design preform shapes to reduce the number of forging steps. This will improve the properties of final forged parts through controlled microstructure and reduce the cost of dies and tools required.
Market News
In light of the slowing growth of the economy, inflation, 1Q22 GDP decline, war, equities market turmoil, and rising interest rates – consumers and businesses are concerned that a recession is eminent. However, ITR Economics indicates that despite these economic concerns that trending and historical data support that the economy will continue to soften from an accelerated to slowing growth stage well in to 2023 for most markets and the risk of a recession is low. ITR advises to continue investing in your business with the knowledge that labor shortages will be long term, demand will improve with improvements in supply chains, and the impact of the war on the US economy will become normalized.
The March SFSA Trends report shows that steel casting demand remains strong while stainless castings are showing slowing growth. Steel bookings were up over 40% year over year and Q1 '22 up 30% over Q1 '21. Shipments are up 10% in the same period. Backlog numbers remain high due to labor and supply shortages with steel castings at a record 17 weeks and stainless at 15 weeks.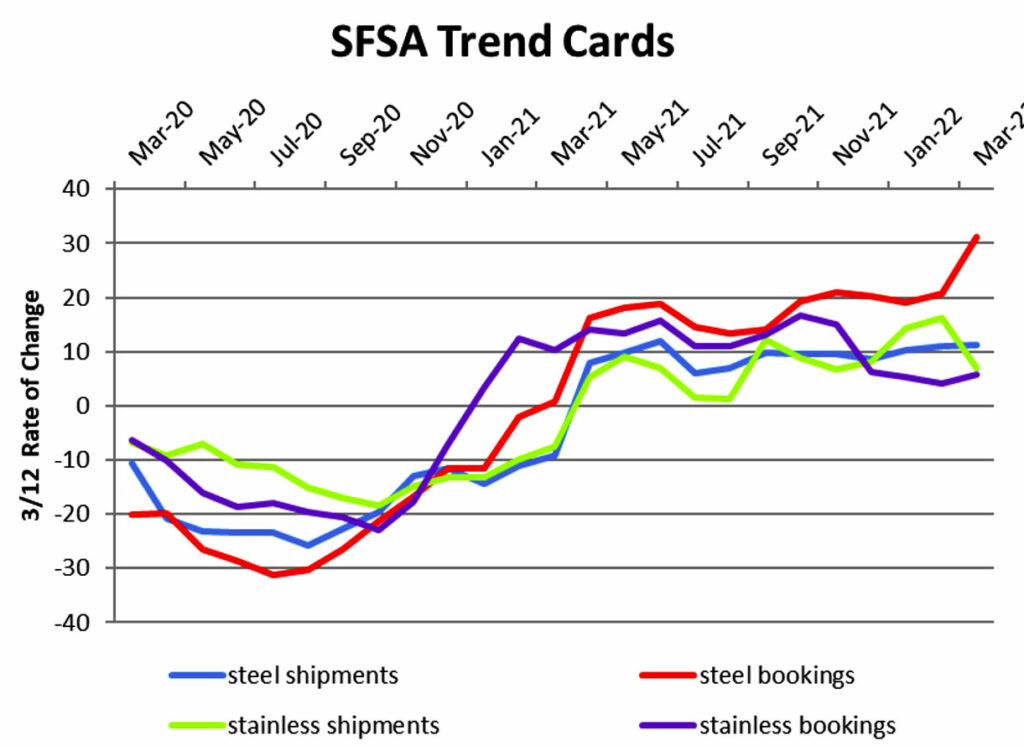 Raymond Monroe – Celebrating 40 years at SFSA
SFSA is pleased to recognize Raymond Monroe, Executive Vice President, for his 40 years of service to SFSA and the industry. Known as a "luminary" in the industry, Raymond has led SFSA in the pursuit of advancing the steel casting Industry for 40 years. His philosophical thinking and strategic solutions, along with his technical, educational and research achievements are second to none. Thank you, Raymond, for the abundance of wealth you have provided to all!
Casteel Commentary
Capacity, Capital investment and China
Steel foundries that have survived and prospered for the past four decades are incredible. Public policy and business conditions have been brutal leading to a dramatic reduction in our capacity and severely limiting our ability to be profitable enough to modernize and automate. While our policy makers embraced globalization as an unmitigated good, our competitors exploited and weaponized their economic policy to gain leverage and strength. This can be seen most painfully in how China has used its economic success to gain a plurality, if not a majority, position in the production and supply of critical industrial materials.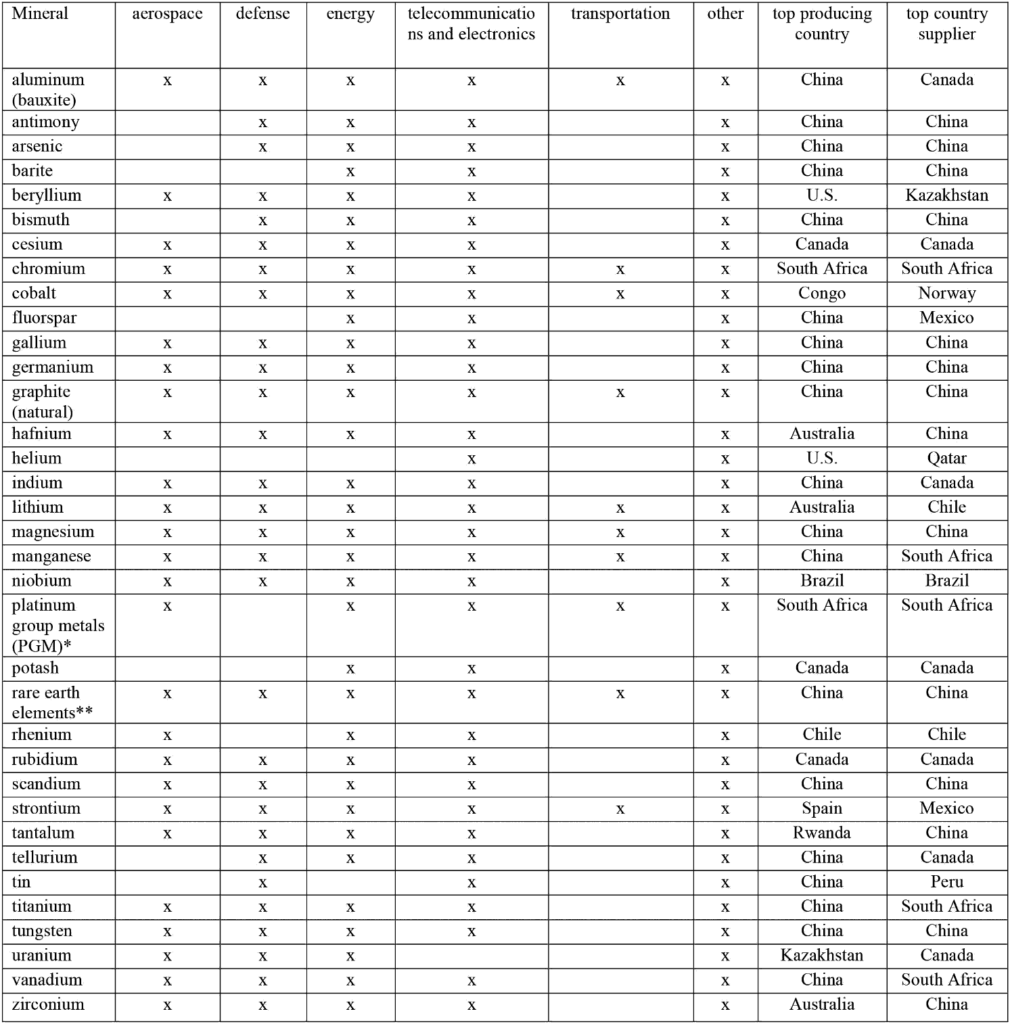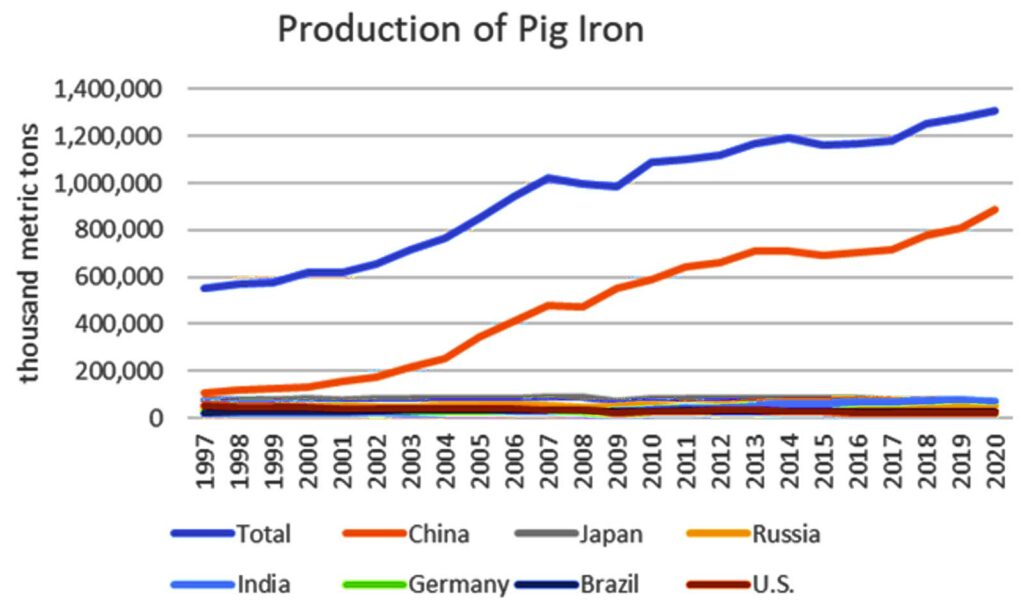 For steel producers, China is the largest producer of pig iron. Like steel production, China has no competitive advantage over other producers, they buy energy and iron ore on the world market that is the cost driver for pig iron. Yet by their targeted policy, they produce over half the world's production.
The same story is true for ferroalloys. China has pursued an intentional and deliberate strategy of becoming the owner of the mines and converter/producer of the material. We in North America are vulnerable to supply disruption or curtailment of the essential materials we need for economic or national security. Our embrace of globalization coupled with our cultural sensitivities that prevent mining developments domestically have created this problem.
As a capital-intensive business, public policy enabled global competitors to game the system, particularly China. They had an explicit strategy to become dominant in these basic materials and subsidized their production to eliminate alternative suppliers. Coupled with some of the materials that come from Russia, our position in the world as an advanced economy is threatened.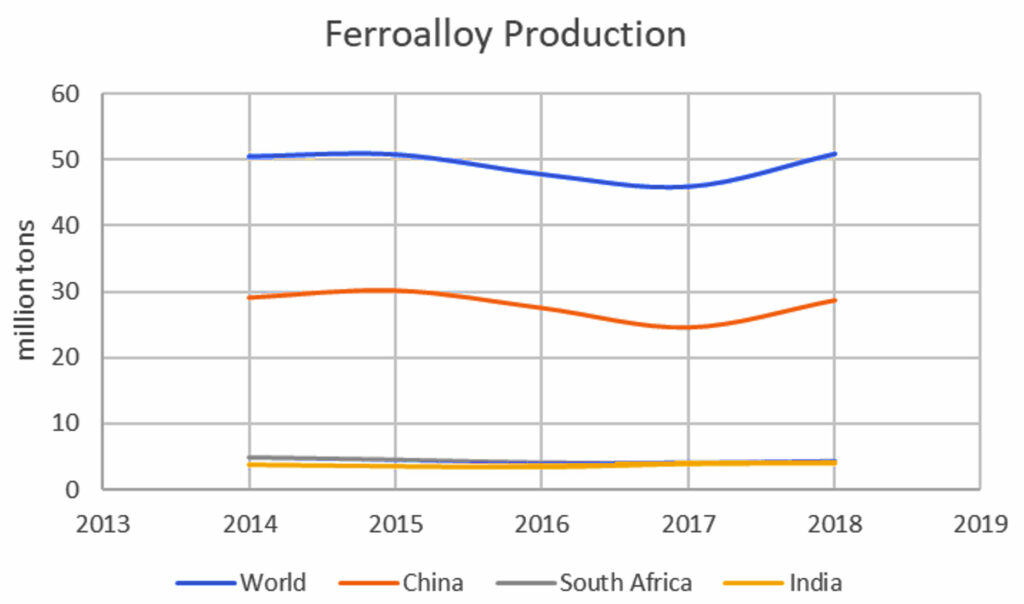 Any reasonable path forward will require a re-thinking of our role globally and our economic policies domestically. We need to re-work our financial and tax system to incentivize capital intensive industries and reduce the regulatory and administrative burdens we impose. With the current demographic trends, maintaining our standard of living will require large investments in modernization, automation and innovation. These funds should come from profitability but our current economic policies encourage sending these industries to other economies and this is a fundamental risk as we saw during Covid with key supplies. We are still seeing supply chain disruptions that look to be persistent for the foreseeable future.
Raymond
STEEL FOUNDERS' SOCIETY OF AMERICA
BUSINESS REPORT
SFSA Trend Cards
(%-12 mos. Ago)
12 Mo Avg
3 Mo Avg
March
February
January
Carbon & Low Alloy
Shipments
10.4
11.3
16
10
8
Bookings
21.1
31.1
43.2
25
25
Backlog (wks)
11.9
16.5
17
16
16.5
High Alloy
Shipments
8.6
7
0.1
11
10
Bookings
10.2
5.7
0
6
11
Backlog (wks)
11.8
14.7
15
13
16
Department of Commerce
Census Data
Iron & Steel Foundries (million $)
Shipments
1,365.60
1,407.70
1,412
1,391
1,420
New Orders
1,512.30
1,580.70
1,691
1,569
1,482
Inventories
2,423.20
2,520.70
2,542
2,526
2,494
Nondefense Capital Goods (billion $)
Shipments
81
84.3
84.4
84.3
84.3
New Orders
88
92.4
90.4
90.6
96.4
Inventories
204.1
210.7
212.9
210.6
208.6
Nondefense Capital Goods
less Aircraft (billion $)
Shipments
76.1
79.6
79.9
79.6
79.3
New Orders
78.2
80.5
81.1
80.1
80.3
Inventories
138.3
145.2
146.9
145.2
143.5
Inventory/Orders
1.8
1.8
1.81
1.81
1.79
Inventory/Shipments
0
1.8
1.84
1.82
1.81
Orders/Shipments
0
1
1.02
1.01
1.01
American Iron and Steel Institute
Raw Steel Shipments
(million net tons)
8
7.6
7.8
7.2
7.8