Investing in the Future…
Fall Leadership Meeting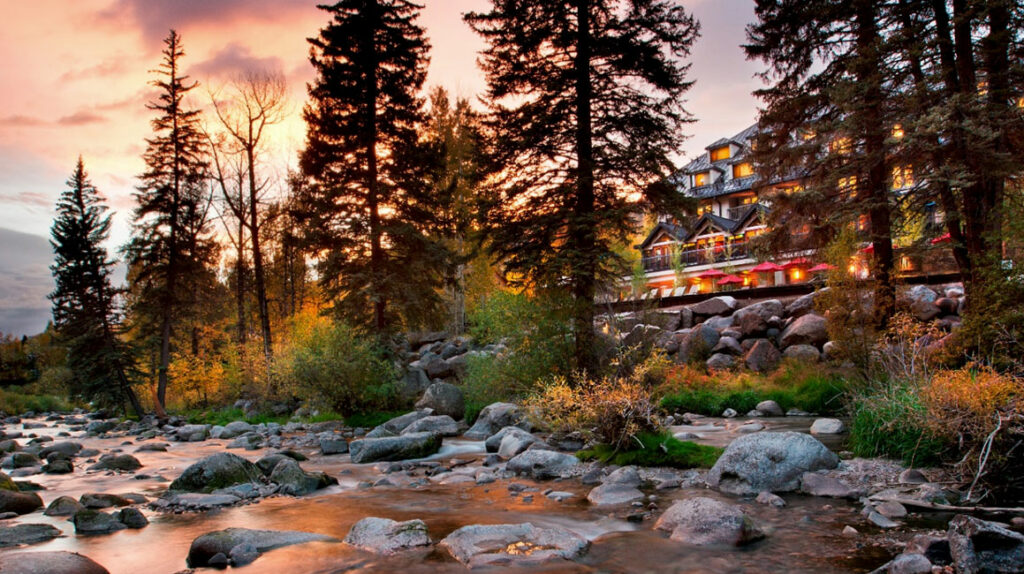 Registration is now open for the Fall Leadership Meeting on September 23-26, 2022, at the Grand Hyatt in Vail, CO. SFSA staff and Board look forward to welcoming everyone to this essential meeting for leaders in the steel casting industry to learn, strategize and network.
This year's business sessions will include presentations from Edison Welding Institute (EWI) on Foundry Automation Opportunities, Chris Kuehl on Economic Outlook for Manufacturers, Neil Elliott on Energy Supply and Policy Update, John DuPont on Challenges and Suggestions for Educating and Recruiting Metallurgical Engineers, Raymond's State of the Industry, Skip and Martha Guimond will provide an EHS Regulatory Update, SFSA market forecast, and an industry roundtable. The Society has also arranged optional group activities for members and spouses which include an ATV tour and Bike Tour of Vail Pass.
Make your plans now to attend – https://sfsa.site-ym.com/event/FLM2022
Vaughn Makary
Vaughn Makary passed away from cancer on June 22,2022. Vaughn was an active supporter and participant in SFSA serving on our Board of Directors and as our president. He cared deeply about the industry and was active in steel casting efforts, working until is final days. Details are included:
https://obits.mlive.com/us/obituaries/muskegon/name/vaughn-makary-obituary?pid=202367428
76th T&O Conference
Planning for this year's conference is underway. Please mark your calendar for December 7-10 in Chicago at the Loews Hotel. Please contact Dave for any questions.
Steel Casting Research
SFSA's sponsored research is for members and because of our members. SFSA is leading three congressionally supported programs – Digital Innovative Design for Reliable Casting Performance (DID), Steel Performance Initiative (SPI) and Steel Technology Advanced Research (STAR). Our research objectives are driven by the board's three strategic goals: improving casting design, educating customers, and workforce development. Success is achieved through our research committees' technical steering and direct support of in-plant trials. This strategy positions research to be industry relevant and easily transitioned. The Board of Directors has requested member sponsors for research projects along with identification of non-competitive R&D to directly support member needs. Research sponsors will be directly involved in the steering and deployment; thus, obtaining an early and direct benefit. New research ideas to help advance the industry. To sponsor a project or submit a research project, please contact Dave. The steel casting research thrusts are:
Process-Driven Performance Modeling/Fitness-for-Purpose Design
Quantitative Non-Destructive Testing
Job Shop Industry 4.0
Hybrid and Advanced Manufacturing
Advanced High Strength Steels
Steel Database
Specification Guide for Grade Substitution
Member Interns: Peaslee & Schumo Scholarships
Recruiting students to join our industry and grow into leadership positions remains a critical need in the steel casting industry and a strategic initiative of the Society. The Steel Founders' Society Foundation aims to attract the next generation workforce by providing scholarships to student interns. To compete for the scholarships, interns are required to work at a member foundry and carry out a specific task or investigation. Selected works are presented at the annual T&O conference. If you currently have or plan to have an intern work at your foundry in 2022, be sure to encourage them to submit a paper and presentation to Renee Mueller by August 19. Find out more about the scholarships at https://www.sfsa.org/scholarships
Market News
Steel casting bookings have shown slowing growth since March but are still over 20% higher than year ago levels. Steel casting shipments have maintained levels 10% higher than last year while stainless bookings and shipments continue to trend around 5% above year ago levels. The median backlogs for carbon and low alloy and stainless castings remain strong but have pulled back in recent months, with steel at 12 weeks and stainless at 13 weeks.
ITR reports that while quarterly US steel scrap producer prices are at near record levels, there has been a downward movement in monthly prices. Prices are anticipated to remain relatively flat for the remainder of 2022 and into at least early 2023. The flatness is a function of the dynamic between sluggish global demand offset by wartime pricing premiums and tight supply as key sources of steel scrap face headwinds.
The SFSA Marketing Committee will be working on the 2023 Market Forecast in the coming weeks. Your input on the markets you serve is extremely helpful so please take a moment to complete the survey which will be emailed to each member. If you have any questions regarding the forecast, please contact Ryan Moore – rmoore@sfsa.org.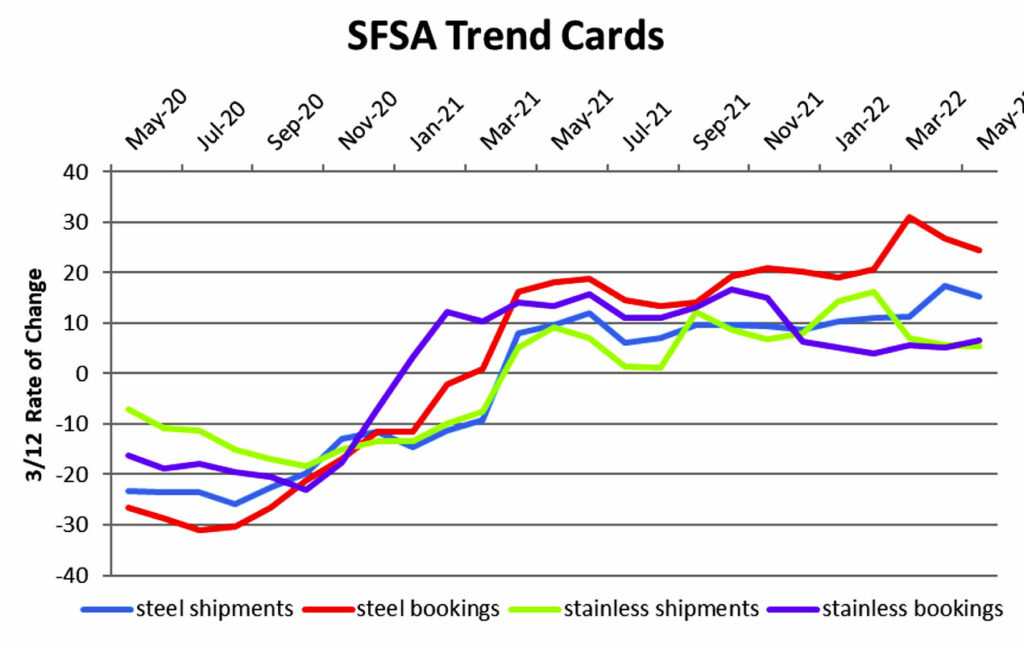 Casteel Commentary
Investing in the future-
In the Casteel Commentary for last November, I used a submission to the DoD about how public policy had severely limited the capacity of our steel foundry industry to re-invest. We need to automate to overcome the coming labor crisis, modernize to gain the quality and productivity benefits and innovate to create the high-performance castings that become the preferred way to create advanced equipment.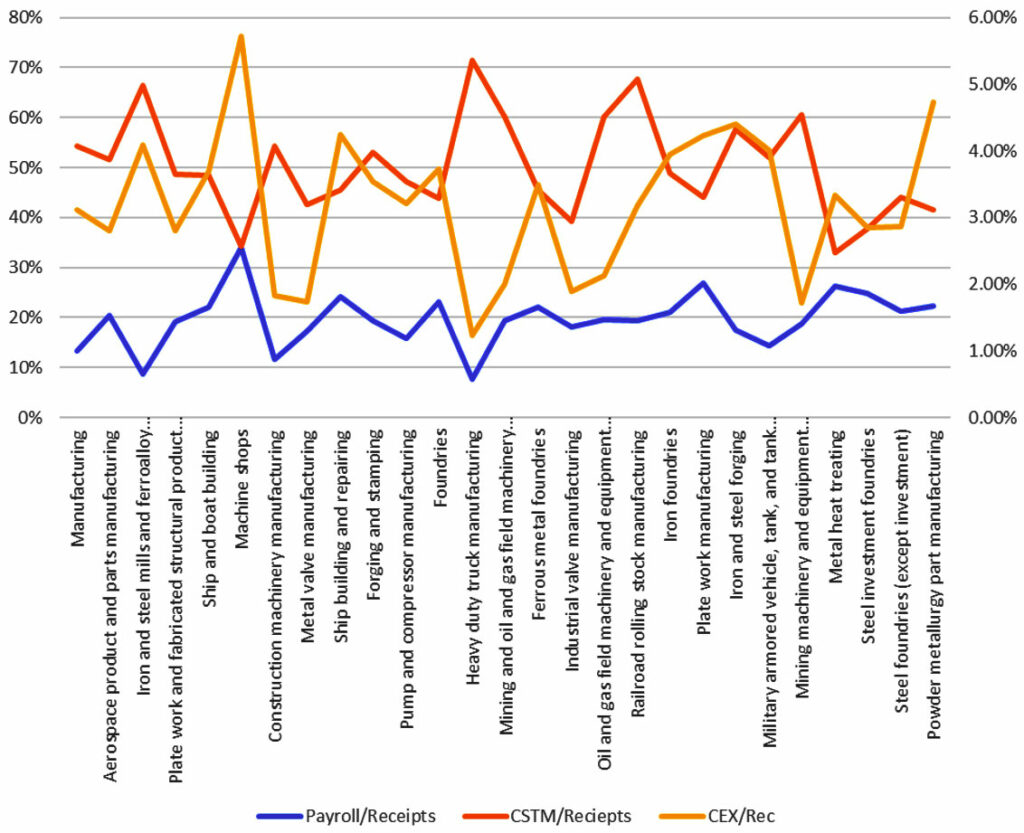 We as an industry will need to plan for the critical investments, we will need to make to realize this future. If we had the money and profitability, what would we invest in? We do not have the financial structure or public policy to support our needed investment but the challenges faced by our domestic economies as we grapple with the economic and security challenges globally is driving a re-regionalization that is likely to provide some opportunities for making some of these critical investments. We need to plan now and identify our needs for these investments.
The graph shows the most recent U.S. census numbers on capital investment as a percent of total receipts. Steel foundries and investment casters are not lagging but fall in the middle of the pack, making about a 3% investment in capital investments in the 2020 census. Machine shops and forge shops are much higher while customers like construction equipment and heavy-duty trucks are well below our levels.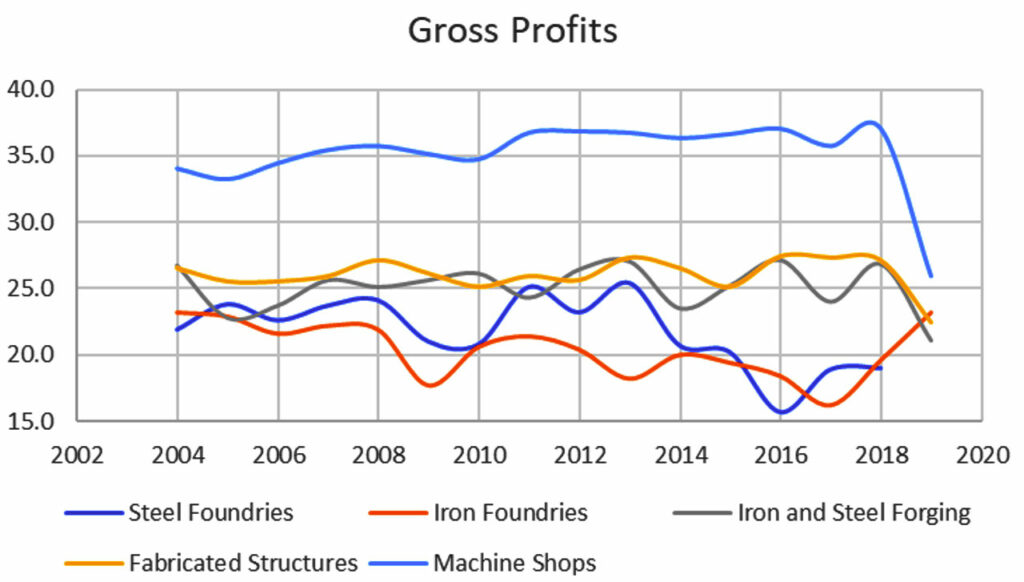 If we target a 3 to 4 year payback on capital equipment that would increase sales, we would need those added sales to generate a gross profit of 25 to 33% before considering inflation. The RMA surveys track gross profits and show that steel foundries have gross profits typically under 25%.
SFSA did a quick survey in 2010 to try to see how much capital investment was required to increase capacity. For a steel minimill, a new site can be constructed for a cost of about $350 per ton per year. The typical selling price of hot rolled coil, HRC, is currently about $600 a ton. To add a ton of capacity to the steel foundry the costs ranged from $600 to $2,800 per ton per year. Most responses were from $1,500 to $2,000. It is interesting that the incremental cost of adding a ton of capacity seems to be related to the average selling price of the item.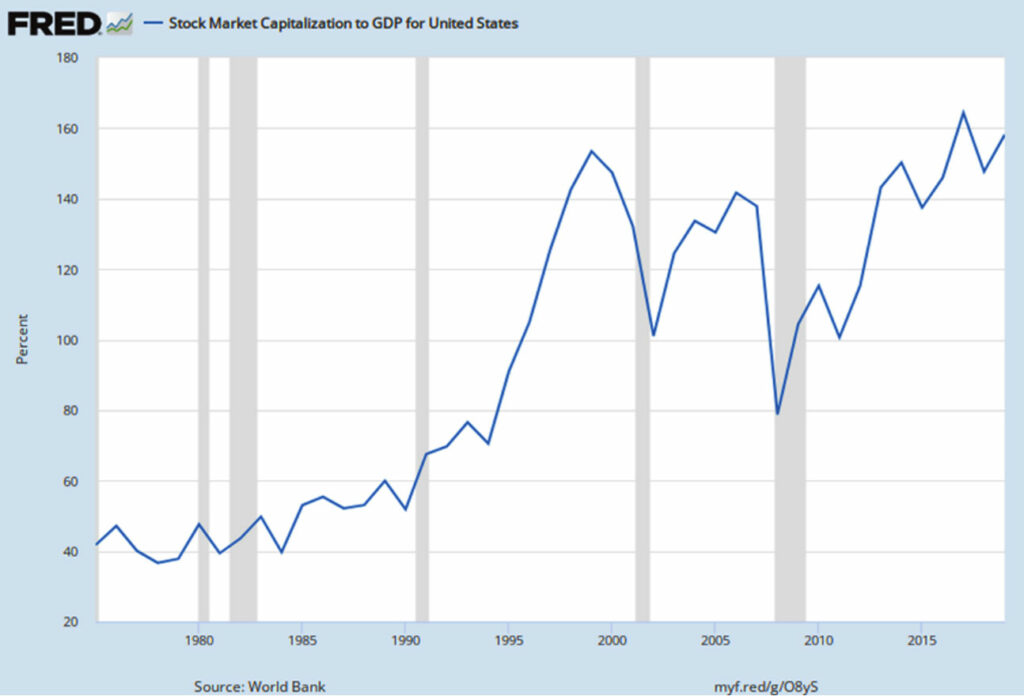 This makes sense, typically a capital-intensive business like steel foundries, has a book value at near 50% of annual sales. Most investors want a return on investment (ROI) to be twice their return on sales (ROS). This can be seen in the "normal" times prior to 1990s when the total stock market capitalization was 50% of the generated GDP. This insight, that the investment cost of new capital equipment is tied to the unit selling price allow analysis of the potential equipment investments.
The low gross margins are the result of competitive pressures that are the result of globalization and alternative product values. We have not structured a our businesses like the forging or machine shops that make continuous investment in equipment. Our business structure in the coming inflationary times with rising interest rates will be challenged to meet customer demand and requirements. Their need for our products should create the economic conditions for increased profitability to make the investments they will require from us. Wise customers would already be exploring how to support and enable steel foundries to be capable of meeting their production requirements. The DoD in the U.S. is well aware that their supply chain is under capitalized and will struggle to support the planned equipment investments needed for national security.
As covered in the past newsletters, while North America moved from asset based economic investments, much of the rest of the world made significant investments to gain the security and economic leverage in the global economy. The natural gas challenges in a EU dependent on Russia is now obvious. Less well understood ids the dominant position that China has gained in controlling the largest share of production of most of the raw materials needed for an advanced economy. The unwillingness to support mining and manufacturing in North America is a fundamental problem that has yet to be recognized. There is a growing recognition of the problem but little consideration of a path forward to make capital intensive industries a preferred and profitable investment.
North American producers can compete easily on product quality, labor productivity, energy and material efficiency but are not able to carry the public policy burdens and costs to remain viable. Globalization has hollowed out the regional economies so that there may be only one supplier left for the needed specialty products.
As steel casting producers, we need to be prepared to identify and make the critical investments needed for our future as the need for our products to be produced in North America becomes obvious.
Raymond
STEEL FOUNDERS' SOCIETY OF AMERICA
BUSINESS REPORT
SFSA Trend Cards
(%-12 mos. Ago)
12 Mo Avg
3 Mo Avg
May
April
March
Carbon & Low Alloy
Shipments
10.7
15.2
3.5
26
16
Bookings
19.9
24.6
18.5
12
43.2
Backlog (wks)
12.7
15
12
16
17
High Alloy
Shipments
7.4
5.4
10
6
0.1
Bookings
9.2
6.5
10
9.5
0
Backlog (wks)
12.4
13.7
12.9
13.4
15
Department of Commerce
Census Data
Iron & Steel Foundries (million $)
Shipments
1,417.70
1,511.70
1,545
1,528
1,462
New Orders
1,533.60
1,620.70
1,613
1,642
1,607
Inventories
2,498.40
2,660.00
2,696
2,661
2,623
Nondefense Capital Goods (billion $)
Shipments
80.1
78.8
79.8
78.6
77.9
New Orders
86.8
83.4
83.8
83.3
83.1
Inventories
205.7
210
210.8
210.1
209.1
Nondefense Capital Goods
less Aircraft (billion $)
Shipments
74.7
72.1
72.7
72.1
71.6
New Orders
76.5
73.2
73.5
73.1
72.9
Inventories
139.9
144.4
145.4
144.4
143.4
Inventory/Orders
1.8
2
1.98
1.97
1.97
Inventory/Shipments
0
2
2
2
2
Orders/Shipments
0
1
1.01
1.01
1.02
American Iron and Steel Institute
Raw Steel Shipments
(million net tons)
7.9
7.8
7.9
7.6
7.8