This month's Casteel Commentary looks at market volatility and raises the issue of how to plan for it.
SFSA Website Redesign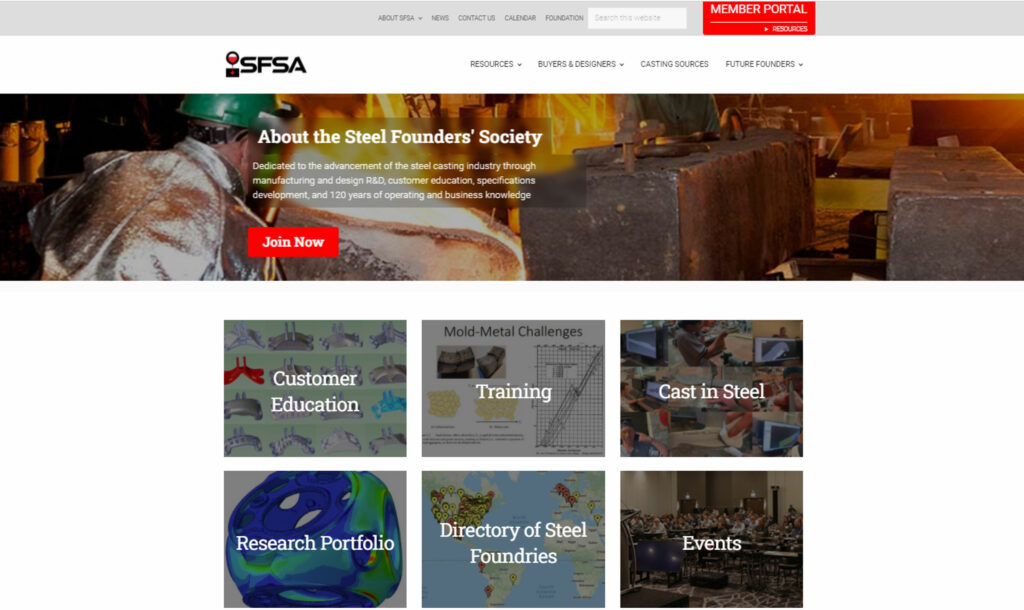 Last month, SFSA launched the new website redesign. With support from the marketing committee and several members providing images and feedback, the new SFSA website (www.sfsa.org) is visually appealing with a new layout that enables visitors to find the information they need quickly and easily. SFSA staff will continue adding new features to the new site and welcome suggestions on improving this resource for industry, customers, and the research community.
Member Luncheon and Roundtable at CastExpo
SFSA is arranging a lunch for members and invited guests on Saturday, April 23rd at 11:30 a.m. Lunch will be at Barley's Brewing Company, 467 North High Street, Columbus, OH in the Underground room. Cost of lunch is $45. This will be an opportunity to network with other SFSA members and participate in a steel foundry roundtable discussion after lunch.
Registration is required. For more information, please contact Renee Mueller – rmueller@sfsa.org. Register and pay for SFSA Luncheon here.
EHS Compliance Calendar
Guimond & Associates are an invaluable resource for SFSA members providing regulatory compliance assistance through webinars, training resources, consultation, and more. New this year is an EHS Compliance Calendar available to members on the wiki. They have compiled a list of important dates, deadlines, and information to help your foundry manage its environmental, health, and safety compliance activities. This can be readily imported into an electronic calendar using the .csv file provided.
Skip and Martha are available to SFSA members as part of your membership.
Skip Guimond – jguimondjr@guimondassoc.com
Martha Guimond – maramond@aol.com
Member Hotline: (215) 721-4500
Cast in Steel Competition
Our 4th annual Cast in Steel competition is in full swing. University students are using casting technology to design and produce a functioning version of a Celtic Leaf Sword. The requirements for the sword are they shall not weigh more than 3.5 lbs. and not exceed 32" in overall length.
This year's competition is shaping up to be the largest yet, with 36 teams from 25 universities mentored by 30 industry partners registered to compete! The competition will be held in conjunction with the AFS CastExpo in Columbus Ohio in April. On Friday, April 22 teams will put their swords through a series of tests. The awards ceremony will be on Sunday, April 24. Everyone is welcome to attend the competition and awards ceremony.
2022 Teams
| University | Foundry |
| --- | --- |
| CA Polytechnic University, Pomona | Consolidated Precision Products |
| CA Polytechnic University, Pomona | Aerotec Alloys, Inc. |
| CA Polytechnic University, Pomona | Fenico, Inc. |
| CA Polytechnic University, Pomona | Soundcast Foundry Company |
| CA Polytechnic University, San Luis Obispo | Aurora Casting |
| CA Polytechnic University, San Luis Obispo | American Casting Co. |
| CA Polytechnic University, San Luis Obispo | American Casting Co. |
| Central Michigan University | Acra Cast |
| Colorado School of Mines | Western Foundries |
| Ecole Nationale des Arts et Métiers Cluny | Safe Metal |
| Georgia Southern University | Georgia Southern Foundry |
| Grand Valley State University | Eagle Alloy, Inc. |
| Instituto Tecnológico de Saltillo | FAEMSA |
| Instituto Tecnológico de Saltillo | POK |
| Instituto Tecnológico de Saltillo | FAEMSA |
| Kent State University | Fisher Cast Steel Products |
| Louisiana State University | Howell Foundry, LLC |
| Michigan Technological University | Michigan Technological University |
| Missouri University of Science & Technology | Southern Cast Products |
| Penn State Erie, The Behrend College | TechCast, LLC |
| Purdue University | Harrison Steel |
| Purdue University | Harrison Steel |
| Saint Martin's University | Spoken Industries, Inc. |
| Tecnológico Nacional de Mexico Campus Morelia | Fundidora Morelia |
| Texas A&M, College Station, TX | TPM, Inc. |
| Texas A&M, College Station, TX | Midwest Metal Products |
| Texas State University | American Foundry |
| The University of Alabama | Southern Alloy |
| The University of Alabama | Southern Alloy |
| Trine University | MTI OR Metal Technologies |
| University of CA, Irvine | Castem Technology Laboratories |
| University of Pittsburgh at Johnstown | McConway & Torley |
| University of South Alabama | Southern Cast Products |
| University of Wisconsin - Madison | Metal Tech |
| University of Wisconsin - Platteville | MetalTek International |
| Western Michigan University | Shell Cast, Inc. |
SFSA is once again collaborating with the Foundry Education Foundation (FEF) for this year's competition. The team's swords will be on display at the FEF booth during the expo. MAGMASoft is our commercial sponsor, and we have two co-sponsors, Investment Casting Institute and Non-Ferrous Founders' Society.
Each year we look for an image for our Cast in Steel t-shirt. This year, Jorge Leon Murillo from Fundidora Morelia submitted the best image. These shirts will be for sale to all shortly.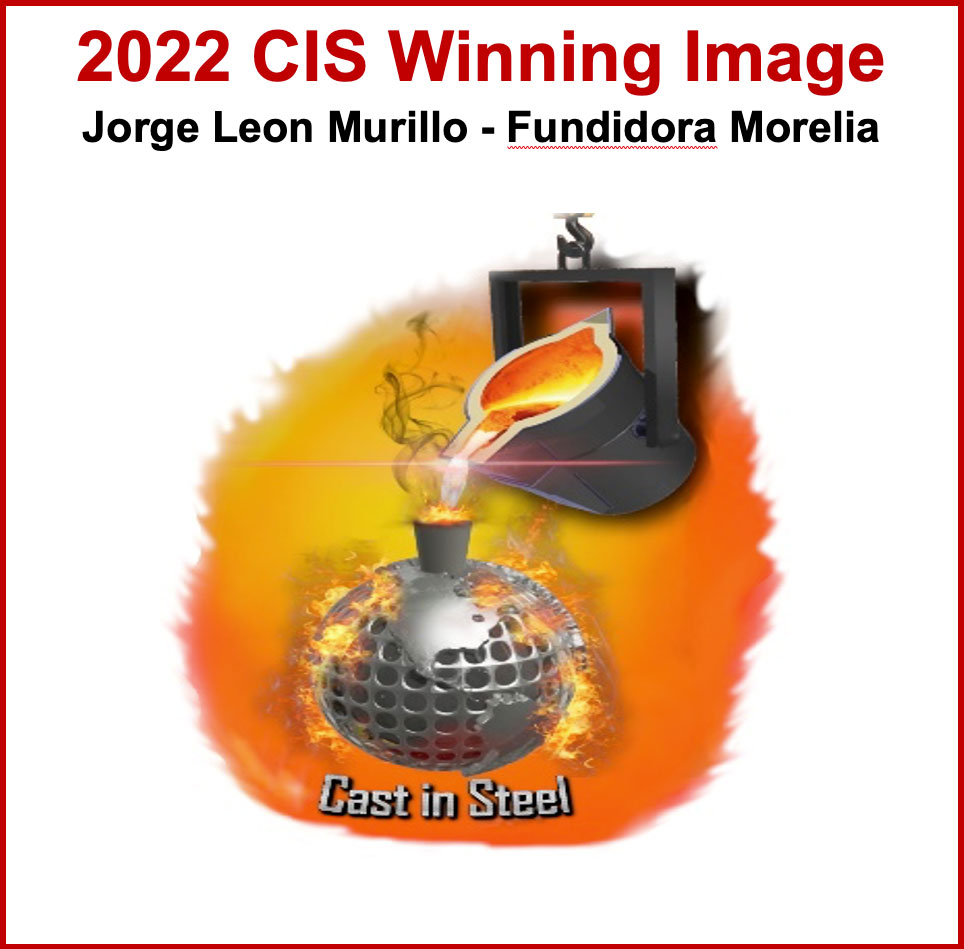 Research Highlight
The University of Arizona is developing a design guide with supporting data demonstrating performance of steel castings in fabrications for building construction applications. The data generated during this work supports the addition of prequalified cast steel grades into AWS D1.1 and gives designers more confidence to use steel castings in these applications. Arizona has selected 6 candidate weld details, which have been evaluated following welding procedures qualified to AWS D1.1. These weld details are currently being used in lab scale monotonic and fatigue tests of welded HSS to steel casting sections. To date, about half of the testing is completed. Preliminary results show that the welded sections with castings are consistently able to achieve high ductility and good fatigue performance. Arizona will soon complete the testing and will then seek consensus with AWS and AISC.

76th Technical & Operating Conference
The T&O Committee is in the process of setting up this year's conference. It will be on December 7-10 at the Loews Hotel in Chicago. If you would like to recommend a topic and presenter, please contact Dave.
Upcoming Graduates Ready for the Industry Workforce
We all know it can be difficult for students to find a job right out of college. Steel Founders' Society would like to connect you, our members, with students graduating in the spring or summer of 2022 that are looking for a job in the industry. Below is a bit of information about each student along with a link to his/her resume. If you are interested in any of the students, please contact them directly.
| | | | | |
| --- | --- | --- | --- | --- |
| Name | University | Degree | Job Interest | Resume |
| Jessica Elder | Texas A & M University | Bachelor of Science in Materials Science and Engineering | Metallurgical Engineer/Process Engineer | Resume |
| Jack Little | University of Alabama | Master of Science in Metallurgical and Materials Engineering | Metallurgy | Resume |
| Joseph Messmer | Texas A & M University | Material Science and Engineering, B.S. | Manufacturing/ Processing | Resume |
| Khanh Van Pham | Texas A & M University | Bachelor of Science in Materials Science and Engineering | Metallurgy, Research & Development, Sales | Resume |
Market News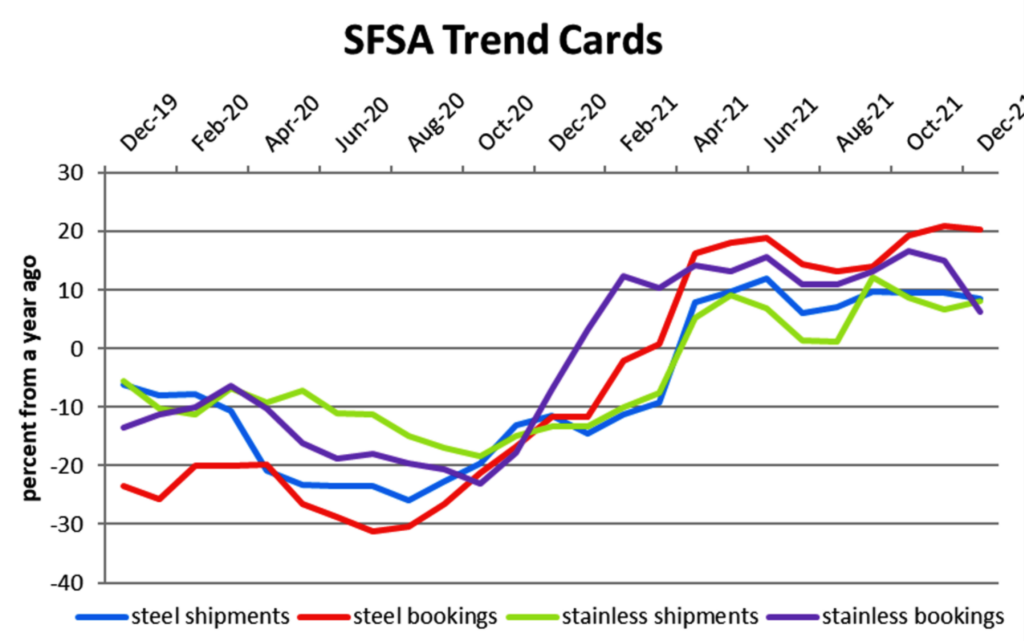 Steel casting bookings remain strong holding at 20% over year ago levels while stainless booking growth has slowed in the last quarter of 2021. Steel and stainless shipments have been relatively stable as foundry production is limited by supply chain and labor constraints. This is evident in December backlog numbers, with steel at 14 weeks and stainless just over 12 weeks.
ITR Economics reported that two new order indicators, US metalworking machinery and US construction machinery have transitioned to a slowing growth phase with the anticipation that the remaining new order indicators will follow in the near term. Oil and gas recovery is still lagging as it is not quite into the growth phase. ITR's forecast for US heavy duty truck production was revised upward for 2022 as production has increased despite supply chain issues.
Casteel Commentary
The main use of money is to allow markets to value the widest range of goods and services. In this way, money acts as measurement of value. In markets, the values or prices are set by the agreement of buyers and sellers on voluntary transactions. Investors buy partial ownership in companies based on the expectation that future production or services will lead to sales that provide future returns. Investors value a company, the price or ownership, based on the expectation of growth in the size of the future sales and their rate of return, profitability. For the market to function and efficiently reward companies and investors that create value, it needs a stable financial system. As the value of money fluctuates due to variations in interest rates, exchange rates, inflation, supply chain stability, etc., investors are no longer able to invest for a longer-term payback. Instability and volatility forces short term decision making.
Culturally and historically, the inability of currency issuers to maintain relatively stable values in their money led investors and markets to tie the value of currency to a fixed and valuable commodity, historically gold. International currencies were valued in gold and that allowed rational comparisons of value and worth globally. This discipline of maintaining a stable currency value limited government and policy makers. To give policy makers more control over the economy with the intent of avoiding recessions and managing growth, the U.S. abandoned the gold standard in 1972. As can be seen in the graph below, abandoning the gold anchor to accommodate deficit spending dramatically increased volatility.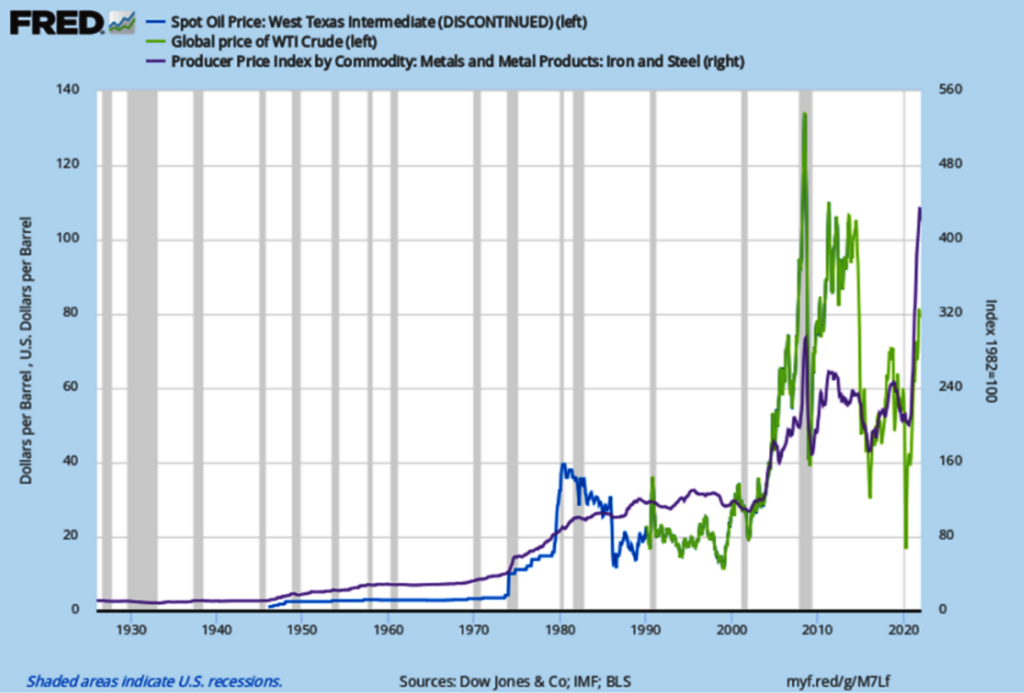 After leaving the gold anchor on the value of money and the intense inflation that resulted, the sharp increase in interest rates and large expansion of the capital stock for industry in response to inadequate capacity resulted in relative but less stable pricing. The volatility of dollar pricing since 1980 has been increasing. From 1982 till 2003, excess capacity in manufacturing and other sectors of the economy fixed prices at the cost of production. These markets seemed volatile and with low profitability resulted in pricing that did not support investing in new technology or modernization in many industries including steel foundries. Well run companies could remain profitable but were not profitable enough and demand was not strong enough compared to the supply to create the need for new investment. After 20 years of cost based pricing and lack of investment, the recession of the 1999-2003 liquidated much of the obsolete capacity while the growth of the global economy required more equipment and materials than the existing global industry could supply.
This liquidation of the obsolete ended when the growth of the global economy exposed the lack of capital-intensive industry capacity to meet the growing demand. From 2003 to 2009, prices shot up. New capital investments were made with the additional profits, but…
Globalization made investment in growing economies that were modernizing, China, the attractive location for installation of new capacity. This allowed multi-national corporations to maximize their access to these growing markets and minimize their costs to their mature markets. Instead of re-capitalizing North America, large corporations located in North America supported the move of their supply chain to China. China had an intentional policy of supporting and requiring these investments to gain a strong if not dominant position in the global supply chain. In steel, China makes more than half the steel produced. They are a dominant or major supplier in most important industrial raw materials.
Public policy in the U.S. has been driven by institutional interests, especially of the financial, government, and services organization. Since the dollar has replaced gold as the principal basis of money globally, the U.S. was free to ignore the health of a balanced economy and manage the financial systems through the Federal Reserve and the Federal budget to support the institutional interests. Abandoning historical experience about inflation, debt, investment, etc. public policy has been unstable responding to market moves to protect institutional interests.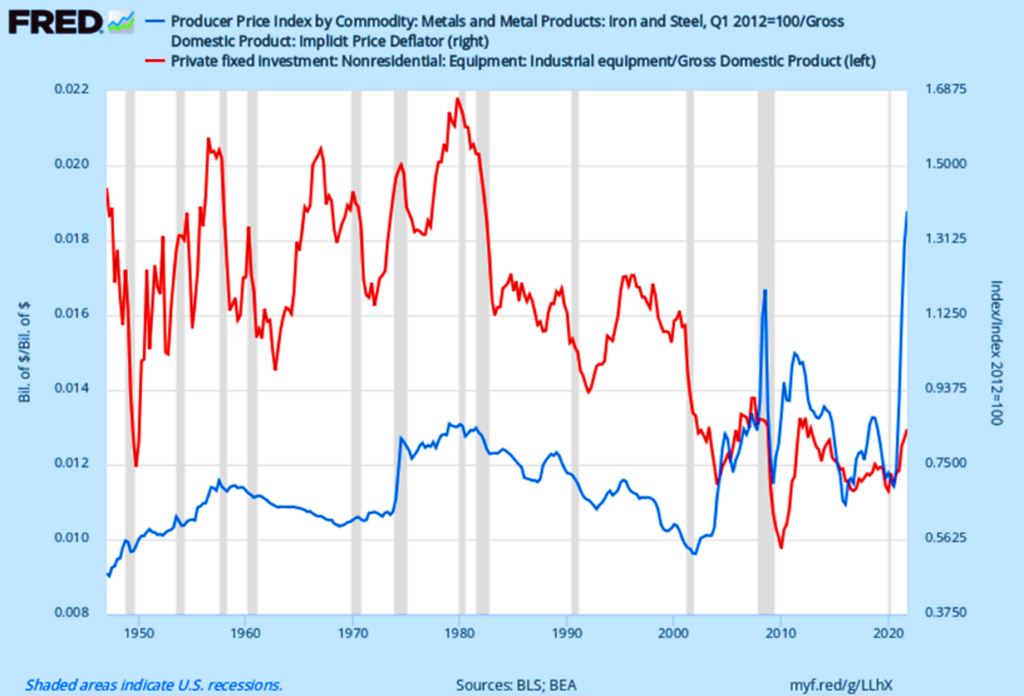 The challenge for us is that this has destabilized the marketplace. Mal-investment driven not by market values but by policy preferences has created a poorly functioning economy. Fixing problems through policy instead of allowing institutional failures driven by market forces continues to distort the incentives and actual investments.
One clear problem is the dis-incentive to invest in capital-intensive industries like steel foundries. Interest rates are low to support unsustainable valuations of the institutions. If money has little time value and returns are low, then investors look for new technology growth opportunities and shun traditional industries that have low profits and limited growth. The limited population growth limits economic and production growth. The low interest rates reflect the slow future rate of growth. Lack of investment in industrial equipment as a percent of the GDP is historically low as seen in the graph above. Economic and national security for the North America will require a vibrant and advanced manufacturing supply chain.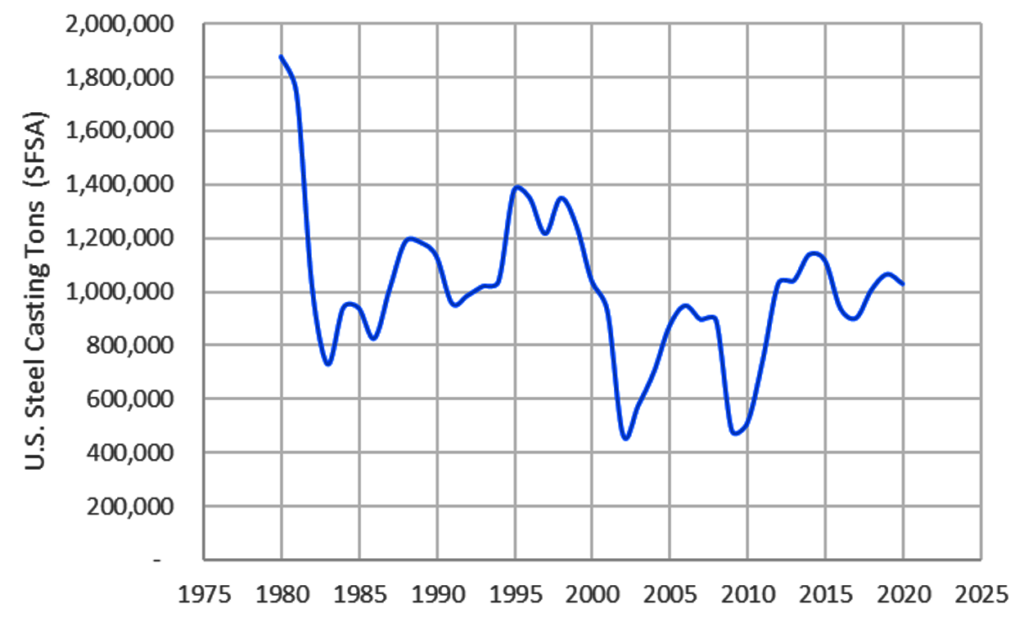 I covered all of that economic history just to get to my main point for this month, volatility. Abandoning the gold standard gave increased pricing and volatility after 1972. This volatility increased dramatically after 2003 and has been amplified by the policy decisions that have abandoned traditional prudence. Making long term investments and operating businesses like steel foundries will be challenging as demand goes from well beyond capacity to half of our capability in the "normal" business cycle.
The graph shows that from 2000 to 2002, and in 2008-2009, and in 2020; we fell to about half of our peak production. This type of volatility was common in the period before 1960 and from 1960 to 1980, demand was the most stable.
I expect that for the next foreseeable future, demand will frequently be robust but also expect that we will continue to see dramatic and unpredictable volatility, both up and down. Managing our production, costs and sales income is likely to be tricky. I would encourage us to plan for this volatility and develop practices to provide stability for our finances and workforce. I am not sure how to do this but think it is something that we will need to do to survive and prosper.
Raymond
STEEL FOUNDERS' SOCIETY OF AMERICA
STEEL FOUNDERS' SOCIETY OF AMERICA
BUSINESS REPORT
SFSA Trend Cards
(%-12 mos. Ago)
12 Mo Avg
3 Mo Avg
December
November
October
Carbon & Low Alloy
Shipments
5.3
8.6
14.9
8
3
Bookings
13.5
20.3
12
20
29
Backlog (wks)
9.8
12.7
14
14
10
High Alloy
Shipments
4.9
8
27.8
5
-8.7
Bookings
11.4
6.3
-4.9
9.7
14
Backlog (wks)
10.8
11.7
12.2
12
11
Department of Commerce
Census Data
Iron & Steel Foundries (million $)
Shipments
1,307.80
1,405.00
1,420
1,395
1,400
New Orders
1,445.50
1,533.70
1,699
1,501
1,401
Inventories
2,342.20
2,467.30
2,488
2,471
2,443
Nondefense Capital Goods (billion $)
Shipments
78.8
81.3
82
81.1
80.8
New Orders
83.7
87.4
87.5
89.5
85.1
Inventories
200.2
206.1
207.7
206.3
204.4
Nondefense Capital Goods
less Aircraft (billion $)
Shipments
74.1
76.6
77.4
76.3
76
New Orders
76.3
79
79.2
79
78.8
Inventories
134.5
140.1
141.6
140.3
138.5
Inventory/Orders
1.8
1.8
1.79
1.78
1.76
Inventory/Shipments
0
1.8
1.83
1.84
1.82
Orders/Shipments
0
1
1.02
1.03
1.04
American Iron and Steel Institute
Raw Steel Shipments
(million net tons)
7.9
8
7.9
7.9
8.2