This month I need your input. We had a core group of members and others identify a range of issues that are strategic for our industry. Please take a few minutes and rank the strategic thrusts and important issues.
Cast in Steel 2024 Competition
Mark your calendars for the 6th Annual SFSA's Cast in Steel Competition on April 22, 2024, in Milwaukee, Wisconsin.
This year's competition challenges university students to use modern casting tools to creatively design and produce a functioning version of a Halligan bar – a multipurpose tool used by firefighters to gain access to building spaces, vehicles, and for a multitude of other emergency uses.
Designed by and named for New York City Fire Department First Deputy Chief Hugh Halligan in 1948, the Halligan consists of a bar with claw or fork, a blade (wedge or adze), and a tapered pick. Some feature a sliding weight for hammering the bar into a gap to facilitate prying.
The Halligan Bar Specs.
Weigh no more than 6 kg (13.2 lbs.).
No longer than 1 m (40 in.) in overall length.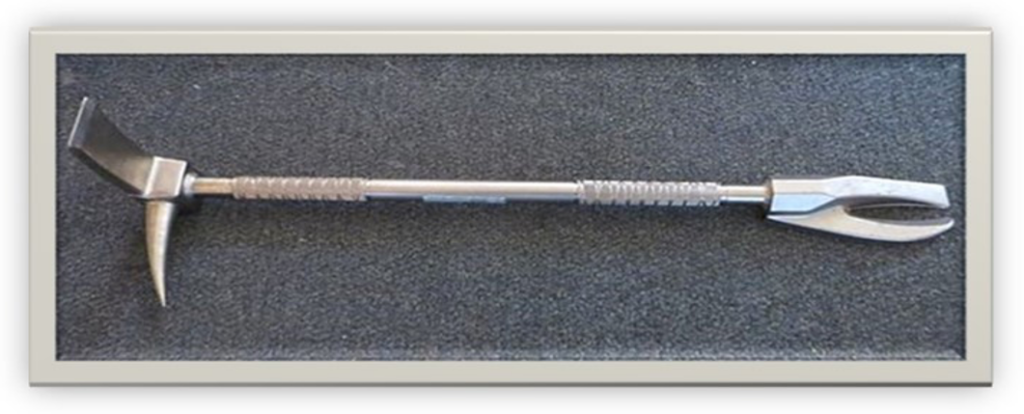 Our students can't do this without having a great foundry partner. If your foundry is interest in partnering with a team, contact Raymond Monroe at monroe@sfsa.org or Renee Mueller at rmueller@sfsa.org.
For more detailed information about the competition CLICK HERE.
Schumo and Peaslee Scholarships
Reminder – scholarship papers and presentations are due in by August 18.
Recruiting students to join our industry and grow into leadership positions remains a critical need in the steel casting industry and a strategic initiative of the Society. Our Foundation remains devoted to helping members by encouraging companies to hire student interns.
The Foundation offers $1000 scholarships to interns that have worked at a SFSA member foundry during 2023.
The Schumo Scholarship was established in memory of Robert M. Schumo, a former president of SFSA and Pennsylvania Electric Steel, in recognition of his generous gift to SFSA that formed the basis of the Foundation.
The Peaslee Scholarship was established by the SFSA Board in honor of the late Dr. Kent Peaslee, the Chair of Steelmaking Technology and Curators' Teaching Professor of metallurgical engineering at Missouri University of Science and Technology.
The intern should be responsible for a particular project and not simply used as an extra pair of hands during their employment with the company. To qualify for the Peaslee Scholarship, the intern's project must be in the area of melting or refining.
These scholarships are competitive. Each applicant is required to submit a paper and PowerPoint presentation on a project they have completed during their employment. The submissions will be judged by the SFSA Scholarship Selection Committee. Committee members are individuals who have held both technical and operating positions and who have served within other SFSA committees.
To apply for the scholarships, each intern must submit a paper and presentation to Renee Mueller, rmueller@sfsa.org, by August 18, 2023. Before submitting to SFSA, the paper and presentation must be reviewed and approved by the intern's supervisor. The winners of the scholarships must present at the SFSA National T&O Conference in Chicago on December 8, 2023.
For any questions, please contact Renee Mueller, rmueller@sfsa.org, (815)-770-2925.
Fall Leadership Meeting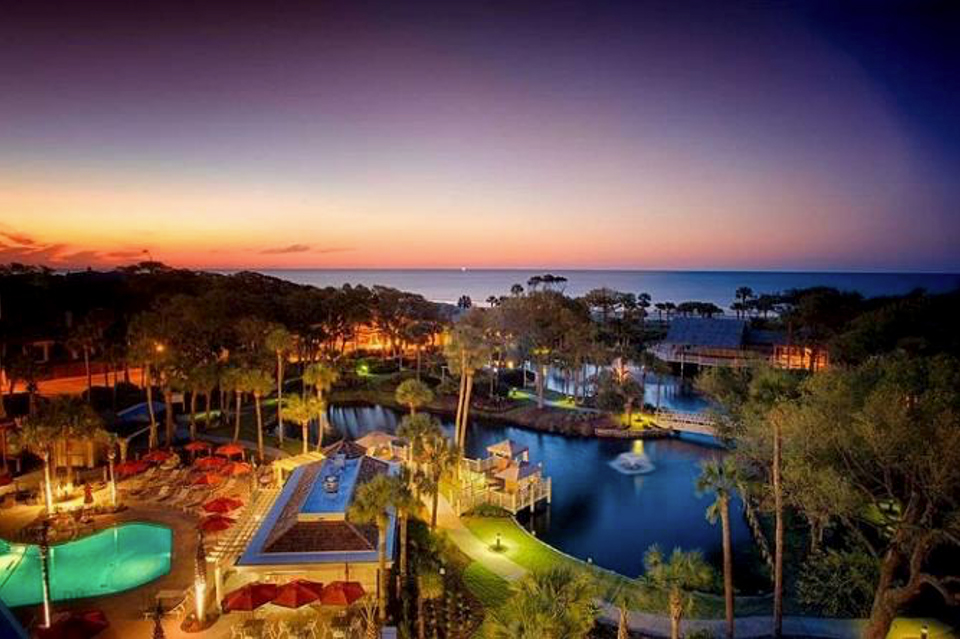 There is still time to Register for the Fall Leadership Meeting on September 22-25, 2023, at the Sonesta Resort in Hilton Head, South Carolina. SFSA staff and Board look forward to welcoming everyone to this essential meeting for leaders in the steel casting industry to learn, strategize and network.
This year's business sessions will include presentations from Chris Kuehl on Economic Outlook for Manufacturers, George Barnych on Advanced Manufacturing Intelligence Platform, Adele Ratcliff (invited) on Workforce Development and Supply Chain Challenges, Raymond's State of the Industry, Skip and Martha Guimond will provide an EHS Regulatory Update, Dave Poweleit on Industry 4.0 for steel foundries, SFSA market forecast, and an industry roundtable. The Society has also arranged optional group activities for members and spouses which include a golf outing, segway tour, and kayaking.
Hotel reservations need to be made by August 31st and the deadline for meeting and activity registration is September 1.
Make your plans now to attend: 2023 Fall Leadership Meeting
SFSA EHS/HR Meeting
Save the date: Please plan to attend the SFSA EHS & HR Group Meeting on October 17-18, 2023 at Andritz in Muncy, PA. This meeting is a great opportunity to learn from your peers on many topics including how to improve EHS training and practices, communication, and the latest HR topics. Additional details and registration information will be available later this month.
8th Steel Casting Design Video Now Available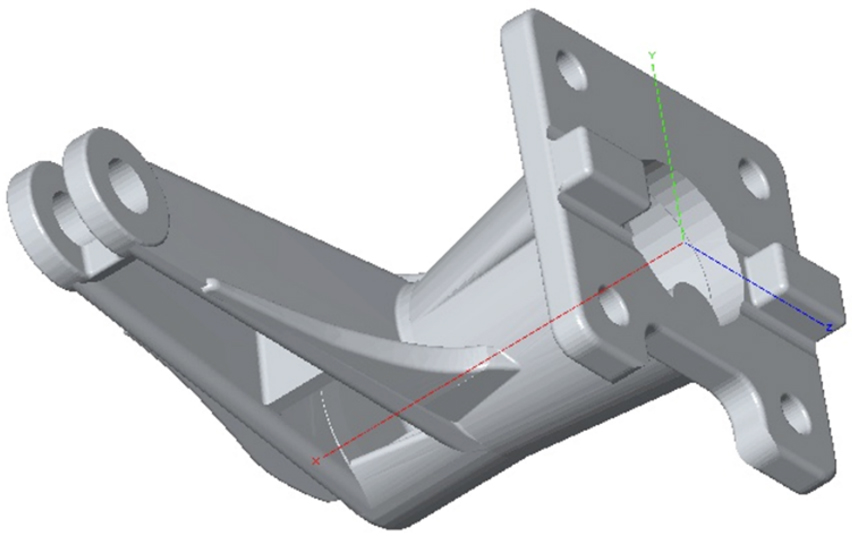 Mike Gwyn completed the 8th video of the Steel Casting Design Series and SFSA has posted it to the Steel wiki along with a shareable link for customers. Episode 8 in the SFSA Casting Design & Manufacturing Engineering webinar series addresses machining net shapes from wrought steel and why this approach is often not a viable alternative to steel castings due to the higher cost of machining. In addition to the details of "why NOT take the shortcut," there are two short, helpful "main-line tracks" for design engineers: 1) Why manufacturing engineering of a casting design… by the OEM Design Team… at the early design stage, is very powerful, and 2) Why to-scale, proportional, isometric pencil sketches are very efficient starting points for casting solid models… and HOW to make them.
77th T&O Conference
Planning for this year's conference is underway. Please mark your calendar for December 6-9 in Chicago at the Loews Hotel. Please contact Dave for any questions.
Research Review
SFSA held its annual Research Review on July 18-20 as an in-person event. There were 84 attendees, including 16 industry members supporting the Carbon & Low Alloy Research Committee and the High Alloy Research Committee. This year's review covered select research under the DID, AMC ICT, SPI, and STAR programs. Like last year, this year's review included a Design Day. With the support of the Carbon & Low Alloy Research Committee and the High Alloy Research Committee, research projects to be featured at the T&O have been selected.
The research portfolio is working towards 5 main objectives: Advanced High Strength Steels, Quantitative Nondestructive Testing, Process Driven Performance Modeling/Fitness For Purpose, Hybrid/Advanced Manufacturing Technology, and Industry 4.0. The Research Review covered all 5 main objectives with 43 presentations from 21 different organizations.
Several software packages are ready for testing at foundries. University of Alabama has developed an application to rapidly estimate and visualize the complexity of a casting from a 3D model. University of Alabama at Birmingham has developed a tool to evaluate fracture surface porosity. Iowa State University has developed a tool to quantitatively assess surface roughness with a 3D scan. More information on these tools and how to access them will be sent to SFSA members soon.
Ramblings with Raymond
Raymond is joined again by friends and steel foundry veterans Ed Kaczmarek, Peter Macler, and George Hartay for a more in-depth discussion about steel foundry sand systems.
Market News
For the June SFSA Trends Report, steel and stainless casting shipments remain above year ago levels with steel shipments trending downward and stainless shipments showing modest gains since March. Steel and stainless bookings continue a downward trend and remain below year ago levels. Steel casting backlog decreased by a week from the month prior to 11 weeks, and stainless backlog remains at an average of 11 weeks since November 2022.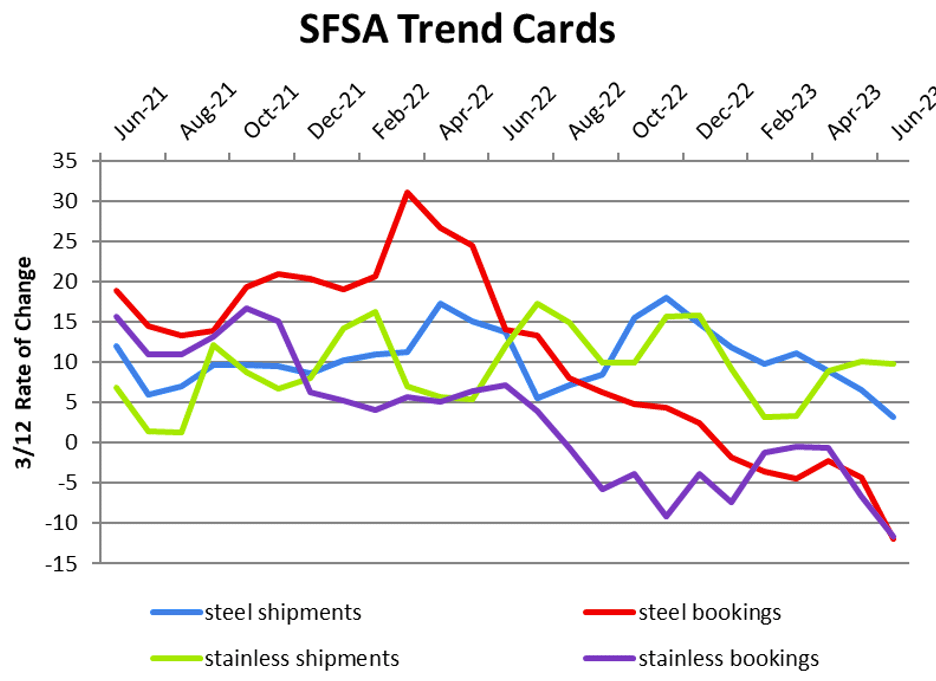 According to ITR trends report, manufacturers are facing more challenging financial conditions than last year with a decline in profits, the cost of borrowing is higher, and banks are tightening lending standards. In addition, retail activity has flattened out, and the housing market is struggling which indicates a weaker US consumer. The result is waning US Business Confidence, which will likely soften demand for new capital goods. Currently, the trends data suggests that the back side of the business cycle will extend into 2024. Many manufacturing markets' annual trends will tick down late this year, with decline persisting for the majority of 2024. Pricing trends are also to the downside as ITR anticipates mild deflation for US Producer Prices into 2024, which will impact top-line numbers.
Casteel Commentary
On July 20, 2023 at the SFSA Research Review we had participants and some invitees brainstorm and identify both strategic topics or thrusts that will frame the programs and activities of SFSA for the coming years. They also identified a range of issues that were of concern or interest. We want to make sure we have both a complete list and a sense of the priorities we should assign to these items. This list may not be complete so I would encourage you to send me any additional items we should add.
The Strategic Thrusts that were identified are:
| | |
| --- | --- |
| Strategic Thrusts | Importance |
| IT/OT | |
| Government/Regulatory | |
| Capital | |
| Product | |
| Percerption | |
| Process | |
| People/Workforce | |
We are asking you to indicate with a total score of 100 your priorities for these thrusts. A longer list of issues was developed and we would like your feedback on these as well. Many overlap and deal directly with the strategic thrusts as you would expect. I would encourage you to combine or propose alternative issues so we can have the best sense of what projects, programs and activities SFSA should pursue. The Important Issues proposed are:
| | |
| --- | --- |
| Important Issues | Importance |
| Our industry is too fragmented and small | |
| Smart industry review and assessment | |
| Know your costs | |
| Business systems automation | |
| Increasing energy costs | |
| Taking advantage of capital from customers and Govt | |
| Old equipment (funding) | |
| Equipment lead time – legacy part support | |
| Building grounds and infrastructure | |
| Sex Appeal/Not a dirty industry | |
| Understanding the process to get Gov't $$ | |
| Political support for mfg. | |
| Trade policy, tariffs especially China | |
| Social choice of wanting regulations and policies but not to pay for them | |
| New Gen (lack of background) regulatory/specs | |
| Carbon/Water/Regulatory Issues | |
| New Steel – not legacy markets | |
| Use liquid metal for atomizer or casting | |
| Casting new product development | |
| Plug and Play Design | |
| Automatic Mold Design | |
| Automatic casting design | |
| Expected quality/performance | |
| Material dependent – address defects | |
| Product and technology – Speed to market | |
| Increasing quality requirements that aren't tied to perf. | |
| Relating test coupons to actual casting properties | |
| Eliminate test bar failures | |
| Take advantages of castings capabilities | |
| Simulation matched to reality | |
| Quality from modeling and process control (not NDT) | |
| Product assembly (value add) | |
| Population reduction | |
| Changing population centers | |
| How much do people want to work? | |
| Higher performance without working (hot/cold) | |
| Generational wealth | |
| Managing transitory workforce | |
| College students – universities chase the flavor of day, no sustainability | |
| Retain (and attract) workforce | |
| Training – capture tribal knowledge of retiring and leaving workers | |
| Aging researchers/lack of next gen | |
| Outreach (down to elementary schools) | |
| Next Gen process and product | |
| On time delivery | |
| Minor v. major welding | |
| Mfg. automation (new robots) | |
| Integration of technology into foundries | |
| In-house foundry test for H value | |
| Gating system without filters | |
| Coop (group-on) | |
| Cleaning room problems | |
| Casting not changed (hot/violent) better process control | |
| Better quench | |
The survey is here: https://docs.google.com/forms/d/1Ymaj9No6xQR_IFI38CJvcG8nC6URcuIV_pgmcb2Dm0Y
Please take the time to participate and we would like your feedback by August 25.
Thanks, this is critical for our understanding of how best to serve the member companies!
Raymond
STEEL FOUNDERS' SOCIETY OF AMERICA
BUSINESS REPORT
SFSA Trend Cards
(%-12 mos. Ago)
12 Mo Avg
3 Mo Avg
June
May
April
Carbon & Low Alloy
Shipments
9.4
3.2
0
3
6.7
Bookings
-1.9
-12
-25
-10
-1
Backlog (wks)
12.6
11
10.1
12
11
High Alloy
Shipments
9.8
9.8
5
6
18.5
Bookings
-5.4
-11.7
-10
-20
-5
Backlog (wks)
11.2
10.5
9.5
10
12
Department of Commerce
Census Data
Iron & Steel Foundries (million $)
Shipments
1,576.80
1,651.00
1,647
1,650
1,656
New Orders
1,587.40
1,680.30
1,684
1,662
1,695
Inventories
2,908.80
3,152.70
3,187
3,159
3,112
Nondefense Capital Goods (billion $)
Shipments
82.7
82.3
83.4
83.3
80.2
New Orders
88.8
94.3
106.5
91.1
85.5
Inventories
219.4
225.6
225.8
225.5
225.4
Nondefense Capital Goods
less Aircraft (billion $)
Shipments
74.3
74
74.1
74.1
73.8
New Orders
74.4
73.8
74
73.9
73.6
Inventories
155.3
161.7
162.1
161.8
161.4
Inventory/Orders
2.1
2.2
2.19
2.19
2.19
Inventory/Shipments
0
2.2
2.19
2.18
2.19
Orders/Shipments
0
1
1
1
1
American Iron and Steel Institute
Raw Steel Shipments
(million net tons)
7.3
7.6
7.7
7.7
7.5