2010 Annual Meeting
You are invited.......
Steel Founders' Society of America 108th Annual Meeting Bar Harbor, Maine
September 11-14, 2010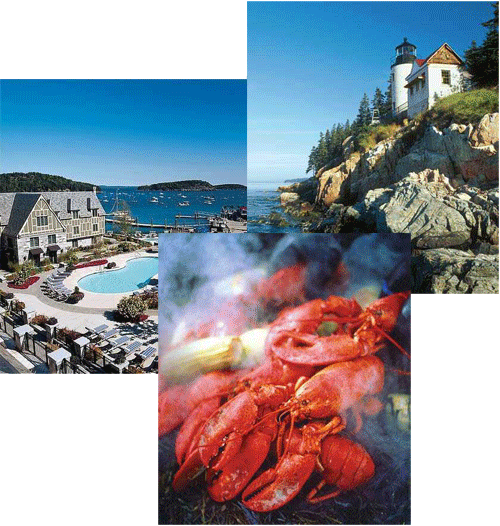 It is our honor to invite you and your guests to Steel Founders' Society of America's 108th Annual Meeting. The meeting is at The Harborside Hotel, Spa & Marina - the premier resort in Bar Harbor, Maine. Nestled in downtown Bar Harbor, it is just moments away from Acadia National Park, one-of-a-kind antique shops, outdoor lobster shacks, and whale watching. Bar Harbor's picturesque village green, boat-filled bay and quaint, shop-lined downtown will make for an unforgettable event. The Harborside offers breathtaking views of Frenchman's Bay and ocean beyond. With the finest guest accommodations and unsurpassed hospitality, Harborside is the perfect destination.
Our meeting program will offer the complete market forecast, a business round table discussion, and other presentations relevant to our industry. If you have any presentation topics or speaker recommendations, please let us know!
Register now! Discounted registration rates are currently available until August 2, 2010. This will be a valuable program and we want you to attend. In order to register, please use the attached form.
Please make your hotel reservations before August 11, 2010. The hotel must receive reservations no later than August 11, 2010 in order to guarantee the reduced group rate.
We greatly look forward to seeing you in September.
The schedule of events is below (subject to slight time changes). Details of the Acadia tour, whale watching trip, and golf outing are included in the registration package above; be sure to complete the registration sheet in order to attend these optional events!
Saturday, 9/11/10
9-11am

Executive Committee Meeting

9-10am

Executive Committee Guest Breakfast

12-4pm

Acadia National Park Tour

4-5pm

Registration

6:30-7:30pm

Cocktail & Hors D'Oeuvre Reception
Sunday, 9/12/10
9-11am

Board of Directors Meeting

9-10am

Board of Directors Guest Breakfast

12:30-4:30pm

Whale Watching Trip

6-6:30pm

Cocktail & Hors D'Oeuvre Reception

6:30-8:30pm

Dinner
Monday, 9/13/10
8:30-11am

Business Session

9-10:00am

Guest Breakfast

12:30pm

Golf

7:30-8pm

Cocktail & Hors D'Oeuvre Reception

8-10pm

Dinner
Tuesday, 9/14/10
8:30am-12pm

Business Session

9-10:00am

Guest Breakfast

7-8pm

Cocktail & Hors D'Oeuvre Reception