Digital Innovative Design for Reliable Casting Performance (DID)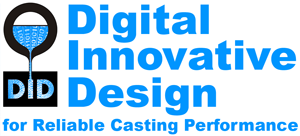 The Digital Innovative Design for Reliable Casting Performance (DID) project is to develop a set of design tools that allow modern engineers to design castings confidently and elegantly. This set of design tools, based on comprehensive property measurements, will allow engineers to create cast parts that are reliable, high performance, and cost efficient for critical DoD and commercial applications.
The DID program will improve the quality, technology, and practices of businesses in the castings industry. The performance and cost advantages of castings - compliant and convenient to design, can be fully exploited by providing design engineers with the tools that more accurately reflect the capabilities of cast parts.
This program will enable the casting industry, in partnership with the Defense Logistics Agency (DLA), to develop enhanced process and property modeling that will improve design of cast parts. This enhancement would be a dramatic improvement from today's methods which rely on historical applications of similar castings to gain confidence in casting design reliability and use rudimentary analysis of simple shapes, like beams, as analogues for part performance. Novel approaches combining process and performance modeling, when combined with development of quantitative Non-Destructive Testing (NDT) promises breakthroughs to a new generation of design engineers largely oblivious to casting advantages. These tools will enable design engineers to fully utilize MBE to optimize reliable casting geometries for performance. For additional information, please contact Ryan Moore.
SFSA's DID Program - presented at the 2017 SFSA Technical & Operating Conference.
Do you design steel components? If so, please take a moment to complete a brief questionnaire regarding your experience with steel designs. Your feedback is appreciated.
SFSA's DID program was sponsored by the DLA Troop Support, Philadelphia, PA and the Defense Logistics Agency, Ft. Belvoir, VA.