2023 Competition Winners
TOP 3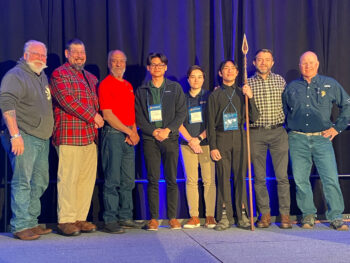 GRAND PRIZE WINNER:  California Polytechnic University, Pomona – Steel Broncos
2nd – University of Wisconsin – Platteville – Pour'n Pioneers
3rd – Grand Valley State – GVSU Casting Club
Best Design and Process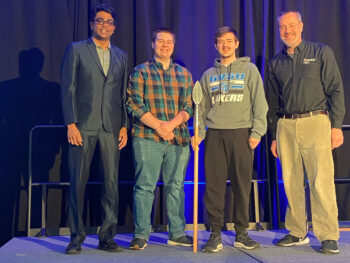 1st – Grand Valley State – GVSU Casting Club
2nd – University of Wisconsin-Platteville – Pour'n Pioneers
3rd – Georgia Southern – Casting Eagles AND Mixed Team Missouri University of Science and Technology, Michigan Tech, Georgia Southern, University of Wisconsin Platteville, North Dakota College of Engineering & Mines
Best Authentic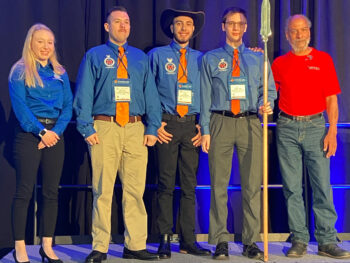 1st – University of Wisconsin-Platteville – Pour'n Pioneers
2nd– University of Wisconsin-Madison – Badgers CIS
3rd – Grand Valley State – GVSU Casting Club AND California Polytechnic University, Pomona – Steel Broncos
Best Casting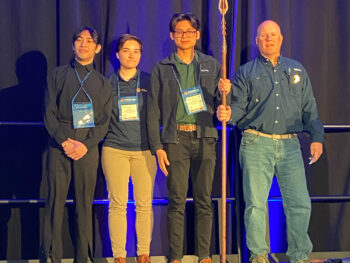 1st – California Polytechnic University, Pomona – Steel Broncos
2nd – California Polytechnic University, San Luis Obispo – Cal Poly SLOmies
3rd – California Polytechnic University, San Luis Obispo – Poly Pointers
Best Video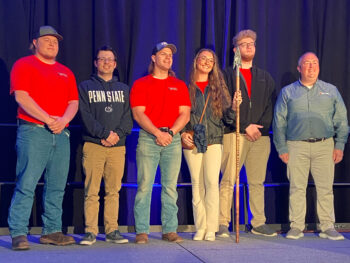 1st – Penn State Behrend – Penn University State Behrend
2nd – California Polytechnic University, San Luis Obispo – Cal Poly SLOmies
3rd – Central Michigan – Central Michigan
Best Performance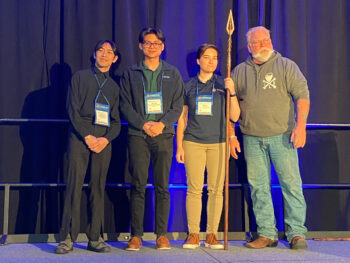 1st – California Polytechnic University, Pomona – Steel Broncos
2nd – University of Wisconsin-Madison – Badgers CIS
3rd – University of Wisconsin-Platteville – Pour'n Pioneers
Project: African Spear Point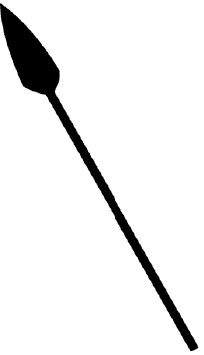 Teams will perform all aspects of creating a new African Spear Point exploiting the casting manufacturing process from design conception to performance. All four (4) components of the project should be submitted.  All students must:
Provide a preliminary plan (one page)

Rough outline of steps
Tentative timeframe
Questions/issues they need to address
Preliminary decisions they've made (type of steel, casting process, etc.)

Make their version of an African Spear Point

Preassemble or design your own handle

Your assembled handle plus Spear Point must be less than 1.5 kg (3.3 lbs.)
Your assembled handle plus Spear Point must be less than 2 m (78.7 in.) in overall length

Using the provided Libman handle (assemble on site)

Your Spear Point should weigh no more than 1 kg (2.2 lbs.).
Your Spear Point should not be longer than 0.5 m (20 in.) in overall length.
Your Spear point can be attached to a commercial handle for the shaft. The Libman 1.5 m (60 in.) wood handle will be used.
The taper is 65 mm (2.5 in.) long and goes from 29mm (1 1/8 in.) to 19 mm (3/4 in.) in diameter. This handle is widely
available and inexpensive so should be easy to get a sample for your design and trials.
Click Here for more information on the handle.

Document their project with a professional Technical Report of less than 30 pages supporting their decisions.
Produce a Project Video, not to exceed 5 minutes, that documents their project.
All project components submitted for the competition become property of SFSA.

Teams
Teams must have:
Student teams who will design, build, and test their African Spear Point. At least one member must be a current college student.  Teams are limited to 8 members (faculty members do not count toward the total of 8 members).
A university faculty sponsor to help the team.
Awards
Each spear point entry will be eligible for 5 awards and a Grand Prize:
Best Design and Process ($250/student)
Best Authentic African Spear Point ($250/student)
Best Casting ($250/student)
Best Project Video documenting the project ($250/student)
Best Performance based on testing and expert evaluation ($250/student)
NEW: Grand Champion Team will receive an additional $5,000 for the University sponsor, the student chapter or the program that sponsored the team.
Prize money is capped at:
$500/student for teams with 2-5 students
$4000/team for teams with more than 5 students
Grand Prize based on the top 5 rankings from 1-5 above. Weighting of the scores will be (1) Design and Process 25%, (2) African Spear Point Authenticity 15%, (3) Casting 25%, (4) Video 10%, and (5) Performance 25%
Important Events and Submission Dates
Friday, December 30, 2022      Proposed teams, and preliminary plan due.
Friday, March 31, 2023             Project video, technical report, and African Spear Point due.
Friday, March 31, 2023             Spear Point due
Monday, April 24, 2023*           Cast in Steel performance testing in Cleveland, Ohio.
Tuesday, April 25, 2023*             Awards Ceremony in Cleveland, Ohio at the AFS Metalcasting Congress
                                                (AFS has graciously agreed to be the Presenting Sponsor)
*For the testing on Monday, April 24, teams, and mentors are highly encouraged to attend and compete with their African Spear Point. We also encourage you to stay for the Awards Ceremony.
All electronic submissions should be sent to Renee Mueller at rmueller@sfsa.org.
Mail your Spear Point to:
Renee Mueller
SFSA
780 McArdle Drive, Suite G
Crystal Lake, IL 60014

Technical Report Must Contain:
Your technical report must not exceed 30 pages. (This will include your cover page and resources pages so clear and concise writing is necessary)
Cover Page:

Must use the outline of this cover page. An example cover page is included in the document.

Address the following:

State the reason for the competition: "SFSA has created this competition to encourage students to learn about making steel products using the casting process and applying the latest technology available". This should be in the introduction of your Technical Report.
*The historical background and accuracy of your African Spear Point and explain why your spear point is an authentic African Spear Point.
*Your design process and the steps you took to get to your final product.
*Your final results should show that it meets contest requirements (state the final length, weight, and materials of your African Spear Point).

*Present each in the one-page executive summary as part of your technical report.

Other suggested topics that can be addressed in your technical report:

What metallurgical decisions were made with respect to your African Spear Point.
What type of casting process was selected, what led you to that decision, and the casting process steps you used while creating your African Spear Point.
Registration
Are you ready to compete? CLICK HERE to register your team for the CIS 2023 competition.

Frequently Asked Questions
Is there a certain way we are supposed to secure the spear to the Libman handle?

The design of the attachment to secure the spear tip to the handle is up to your team and is an important design element.

How is the shaft attached?

One of the key elements of design for this session's competition is the attachment to the shaft. As a part of the 0.5m (20 in.) spear tip is the design how it is fastened and performs with the shaft identified. Shafts can be attached in any number of ways including close fit, pins, screws, glue, etc. The tip with the shaft, the assembled spear will then be tested in the performance competition.

Do we ship them attached?

No, the intent is to have the shafts provided by SFSA during the preliminary registration and assembly. The Spear tips will be sent to SFSA prior to the competition as in the past.

Is the shaft put on at the event? If so how is it attached then?

The plan is to open the registration and test site on the afternoon of April 23 and the morning of the competition April 24 in Cleveland. Teams will be able then to assemble their spear on the handle provided and to do some preliminary evaluations. If a team is unable to attend, SFSA will follow their instructions to assemble the spear. It can be attached anyway the Team has designed it to function.

When you say African spear do you mean Zulu Assegai?

No. It is up to each team to decide on which design of an African spear to make and to document the reason for their choice of spear type and their design in the Technical Report.

For the evaluation test, do the handle and spearpoint have to be balanced at the center of mass? I was also wondering what type of scenarios will it be tested in.

Since we are asking for the spear as a weapon, it should be balanced for thrusting into both hard and stiff materials and not for throwing. It will be tested for ability and capability for thrusting and for survivability in target twisting.

I saw that you were now allowing teams to mount their own spears onto a shaft before bringing it to the competition. I wanted to know if we would be judged on the quality of the shaft or if that was even in consideration at all?

As indicated, our spear is intended as a weapon and not for hunting so it will be tested thrusting and not throwing. The handle should be robust enough to survive even if the point is twisted. If the handle breaks not at the connection but in the handle, it should be considered if the Libman handle is used. If you choose to use another handle material and design which we have not restricted, the judges are likely to include your handle in the evaluation of you entry.

I have a person who would like to join my team after team registration. We are still considering them but would it be possible to add them if we are still under the limit of 8 team members?

Yes.

what options will the SFSA team be providing in regard to the assembly of spears once they are shipped in? Will your team have access to any of the following items: drills, glues, adhesives, pins, powered sanders, sandpaper, power tools, peening hammers, drills, or wedges?

We are planning to have on hand drills, sanders, sandpaper, hammers, two-part epoxy resin, and various miscellaneous hand tools. If your entry requires specific adhesives, pins and/or other fasteners, or tools, we recommend that you provide those. There will be time for assembly on the Sunday afternoon and also on the Monday morning, however we suggest you consider the available time when selecting any adhesives.

Can members of a team get access to the Steel Casting Wiki?

The Steel Casting Wiki is SFSA's member-only library of technical information. We are happy to support Cast in Steel teams with technical information, but we cannot provide access to the entire Steel Casting Wiki to teams. If you have need of an SFSA member-only technical document, contact us at blairr@sfsa.org and we will make a case-by-case decision as to whether we can provide the information you're looking for.

Is it possible to forge the spear? That is, we can melt our spear and then forge it?

One of the evaluations for the competition is you ability to use the casting process to creatively improve your design and performance. All designs will require some non-casting finishing; machining, grinding, polishing, heat treatment, etc. Forging, like grinding, is a value added operation and can be used to produce the final item for testing. The challenge for the teams is to use castings ability to create unique alloys and geometries and then use the other value added operations to finish and optimize their spear.

We want to include additional decorations on our handle such as a flag or even additional cast parts, would this be allowed?

Yes

Are we allowed to modify the Libman handle for competition, as in cutting it to a different length? Would the rules still apply that if a Libman handle was used, the judges may not care if it breaks as long as it's not at the connection point?

Yes, you can modify and change the length. If the Libman breaks in a section of the handle not changed, failure will not count./dd>

Are we allowed to ship our spear already attached to the handle? We bought some of the Libman handles and would like to ship them fully attached with ornamentation, if possible. Would the Libman handle rules still apply in this scenario?

Yes, you can submit it finished with the handle. The Libman handle rules would apply to any un-modified portion of the handle./dd>

Is there a limit to the amount of machining that can be performed on the cast spearhead?

No limit, the goal is to utilize casting capability to maximize the value of the item.

What types of tests will be performed on the spears? Will they be thrown?

The spear were identified as a weapon so throwing will not be a test. Tests will be typical of the challenges of a war spear, thrusting, limited slicing and durability.

Are there limitations in regards to how the spearhead is attached to the handle (superglue, epoxy, etc.)?

No

If the team designs their own handle, should this be mailed with the spear point on 3/31/2023?

Yes

If decorative leather bindings are added to the provided Libman handle, would this then need to be counted as a customized handle?

No

If necessary, is the team allowed to perform weld repair on the cast product to improve the surface quality?

Yes

If we decide to fabricate our own handle for the spear, does it have to be made out of wood?

No, but… It would need to justify why a non-wood handle would be appropriate for an African spear.

March 31st the spearpoint is due, does it need to be sent in the mail by this time or can we bring it to the competition if we are planning to attend?

In order to be fair, we expect the spear to be shipped to us no later than March 31. We want everyone there to compete, but there is a points penalty for submitting late. Also, your spear won't be in the pre-competition video or receive any comments from the judges since all of that is done before the actual competition.

The preassembly and mail to competition option has a max weight of 3.3 lbs. If we assemble at the competition then we use the Libman handle and our spear point can be no more than 2.2 lbs. Our spear was originally designed to be assembled at the competition, but due to low funds we cannot stay the extra night anymore. What is the requirement if we want to preassemble with the Libman handle? The Libman handle weights just under 1.5 lbs. Our assembled spear is 3.5 lbs because of the Libman handle. Would the competition allow for the preassembled spear with the Libman handle to be above the 3.3 lb max weight?

Good question and observation. The original requirement was 2.2 lbs for the point + a Libman handle. When we allowed custom handles we set the total weight at 1.5 kg or 3.3 lbs without checking to see what the Libman weighted. It weights 1.5 lbs so we will accept that and let all the teams know that the maximum weight (just to be fair) is 1.75 kg or 3.85 lbs.

We have encountered difficulty in finishing our spear and wondered if we could have a time extension?

For the Cast in Steel competition, we want all teams to participate and enjoy the experience. We also need to have minimal and clear requirements so that teams that are able to meet them are rewarded in determining the winners. Our practice is to allow all submitted entries that make it to the competition to compete and be evaluated. We want all teams that are able to submit a technical report and video. This allows us to feature each team on the website with the technical report, their video, a video of their tests and an evaluation by the judges like Ben Abbott.
Reports or videos that are not submitted on time are welcome but will not be able to be evaluated for a place in their category. Items that are not completed by the deadline are able, and we encourage, to participate in the testing but also are not eligible for recognition. If the item is completed by the deadline but shipping if is problematic, alternatives are allowed including hand delivery.
Sponsors
Companies interested in sponsoring the Cast in Steel 2023 competition are welcome and should contact monroe@sfsa.org.
American Foundry Society (AFS) is our presenting sponsor. The Industrial Base Analysis and Sustainment (IBAS) Program run by the Innovation Capabilities and Modernization (ICAM) Office in the Office of the Assistant Secretary of Defense for Industrial policy (ASD IBP), is a main sponsor, and we have three co-sponsors, Investment Casting Institute, MAGMASoft, and Non-Ferrous Founders' Society.