View the 2021 competition – Thor's Hammer
Project: Celtic Leaf Sword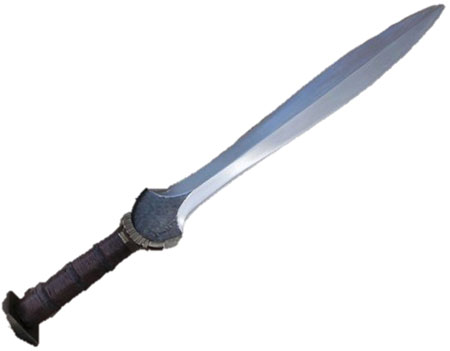 Cast in Steel 2022 competition challenges university students to use modern casting tools to creatively design and produce a functioning version of a Celtic Leaf Sword.
Each Sword will be put through a series of tests appropriate for these types of swords. All submissions should include your sword, a project video and technical report documenting the design and manufacturing process.
Winners
The winners of the 2022 Cast in Steel Celtic Leaf Sword competition are:
Grand Prize
University of Wisconsin Platteville
Georgia Southern University
Texas A&M Aggies
Performance
University of Wisconsin Platteville
Georgia Southern University
Western Michigan University
Cal Poly – Pomona Pummelers
Cal Poly – The Fellowship of CPP
Authenticity
University of Wisconsin Platteville
University of South Alabama
Grand Valley State University
Casting
Cal Poly – Pomona Pummelers
Georgia Southern University
Pittsburg State University
Video
Texas A&M Aggies
Instituto Techologico de Saltillo – Dun Donkeys
Colorado School of Mines
Tecnologico Nacional de Mexico Campus Morelia – Morisquetos
View the team video submissions:
Report
University of Wisconsin Platteville
Texas A&M Aggies
Michigan Technological University
Grand Valley State University
Georgia Southern University
Western Michigan University
Competition Requirements
Teams will perform all aspects of bringing a new Celtic Leaf Sword through the manufacturing process from conception to use. All four (4) components of the project must be submitted. All students must:
Provide a preliminary plan

Rough outline of steps
Tentative timeframe
Questions/issues they need to address
Preliminary decisions they've made (type of steel, casting process, etc.)

Make their version of a Celtic Leaf Sword

Your sword should weigh no more than 3.5 lbs.
Your sword should not be longer than 32 inches in overall length.

Document their project with a professional Technical Report supporting their decisions.
Produce a Project Video, not to exceed 5 minutes, that documents their project.
All project components submitted for the competition become property of SFSA.

Teams
Cast in Steel 2022 challenges university students to use steel casting to creatively make a Celtic Leaf Sword. Teams must have:
Student teams who will design, build, and test their Celtic Leaf Sword. At least one member must be a current college student.
A faculty sponsor to help the team.
An industrial partner familiar with steel castings.
Awards
Each sword entry will be eligible for 5 awards and a Grand Prize:
Best Design and Process ($200/student)
Best Authentic Celtic Leaf Sword ($200/student)
Best Casting ($200/student)
Best Project Video documenting the project ($200/student)
Best Performance based on testing and expert evaluation ($200/student)
Grand Prize based on the top 5 rankings from 1-5 above. Weighting of the scores will be (1) Design and Process 25%, (2) Celtic Sword Authenticity 15%, (3) Casting 25%, (4) Video 10%, and (5) Performance 25%
Prize money is capped at:
$500/student for teams with 2-5 students
$2500/team for teams with more than 5 students
Evaluation
Competition will be judged by panel of steel experts selected by SFSA
The technical reports and video entries will be judged by Master Founders and Lifetime SFSA members.
The performance evaluation will include a series of tests established to prove the worthiness of each sword.
View the testing at the competition:
Important Events & Submission Dates
Friday, December 31, 2021
Proposed teams, and preliminary plan due.
Friday, April 1, 2022
Project video, technical report, and Celtic Leaf Sword due.
Friday, April 22, 2022*
Cast in Steel performance testing in Columbus, Ohio.
Sunday, April 24, 2022
Awards Ceremony in Columbus, Ohio at the AFS CastExpo
(AFS has graciously agreed to be the Presenting Sponsor at CastExpo)
*For the testing on Friday, April 22, teams, and mentors are highly encouraged to attend and compete with their Celtic Leaf Swords. We also encourage you to stay for the Awards Ceremony.

Technical Report Must Contain
Your technical report must not exceed 30 pages. (This will include your cover page and resources pages so clear and concise writing is necessary)
Cover Page:

Must use the outline of the below linked cover page. An example cover page is included in the document.

Address the following:

State the reason for the competition: "SFSA has created this competition to encourage students to learn about making steel products using the casting process and applying the latest technology available". This should be in the introduction of your Technical Report.
*The historical background and accuracy of your Celtic Leaf Sword and explain why your Celtic Leaf Sword is an authentic Celtic Leaf Sword.
*Your design process and the steps you took to get to your final product.
*Your final results should show that it meets contest requirements (state the final length, weight, and materials of your Celtic Leaf Sword).

*Present each in the one-page executive summary as part of your technical report.

Other suggested topics that can be addressed in your technical report:

What metallurgical decisions were made with respect to your Celtic Leaf Sword.
What type of casting process was selected, what led you to that decision, and the casting process steps you used while creating your Celtic Leaf Sword.
What kind of inspection and testing your Celtic Leaf Swords were subjected to before submission.
Registration
Are you ready to compete? CLICK HERE to register your team for the CIS 2022 competition.

Resources
2022
Previous years' reference materials
Questions
What type of test will the Celtic Leaf Sword be subjected to during the competition?

We know that the website has said that the testing will be similar to test found on Forged in Fire, but we were hoping to get a little bit more specific information than that.

You are correct.  Like Forged in Fire there will be two tests to select finalists.  The first test will be for strength and durability.  Then the second test will be for the sharpness.

From the first test 3 to 5 finalists will be selected for two additional tests.

This types of testing is also a concern since the students will be doing the testing this year. We just want to prepared as students to properly perform the test.

The tests will include using the sword and we will have safety glasses and gloves for the students.
Does the sword edge need to be sharp?

We have assumed it does and planned accordingly, but South Alabama has performed in sword competitions before where the rules stated that the sword needed to be dull for safety reasons.

Yes, unlike other competitions, ours is not only about the production but also the performance.  It is also a competition so the testing will depend on the team as well.
If for some reason there is large spike in Covid-19 cases and the competition were to be cancelled or moved to a remote setting, how soon would this decision be made?

This is really just a concern with our travel plans since we will be booking that soon.

We anticipate the COVID restrictions may diminish in the next months and do not expect to cancel or become remote.  Of course thing could change but we will notify the teams immediately if that occurs.

Does the due date of April 1 mean the date it must be received or the final date to finish and ship?It is the final date to finish and ship.
Are teams are submitting just the point or are we submitting the spear point already attached to the Libman handle?
Ideally, we would like to mechanically connect the spear point to the handle to make it stronger and less dangerous. But that also means mailing a 5ft+ item. So, we are just looking for clarification.
We will be opening the competition on Sunday afternoon and Monday morning to allow teams to fix the Libman handle we will supply. The connection is a part of the design and should allow the team to fix the tip to the handle at the event.
American Foundry Society
More information about the American Foundry Society (AFS) and their 2022 CastExpo can be found at the link below.
Sponsors
Companies interested in sponsoring the Cast in Steel 2022 competition are welcome and should contact monroe@sfsa.org. AFS has graciously agreed to be the Presenting Sponsor for the Awards ceremony at the 2022 CastExpo.

Sponsors may donate online here.
Previous years' competitions